Starting in 2022, we are replacing our glamping tents with"Kampaoh Playa de Levante" tents, our new partner. Rental of tents set up on the Costa Blanca (Benidorm), much more luxurious, with superior equipment and with the recognized guarantee of a great brand.
Actual videos of Kampaoh tents
Book Kampaoh in Benidorm
Kampaoh tents: 3 types on the campsite, 5 Configurations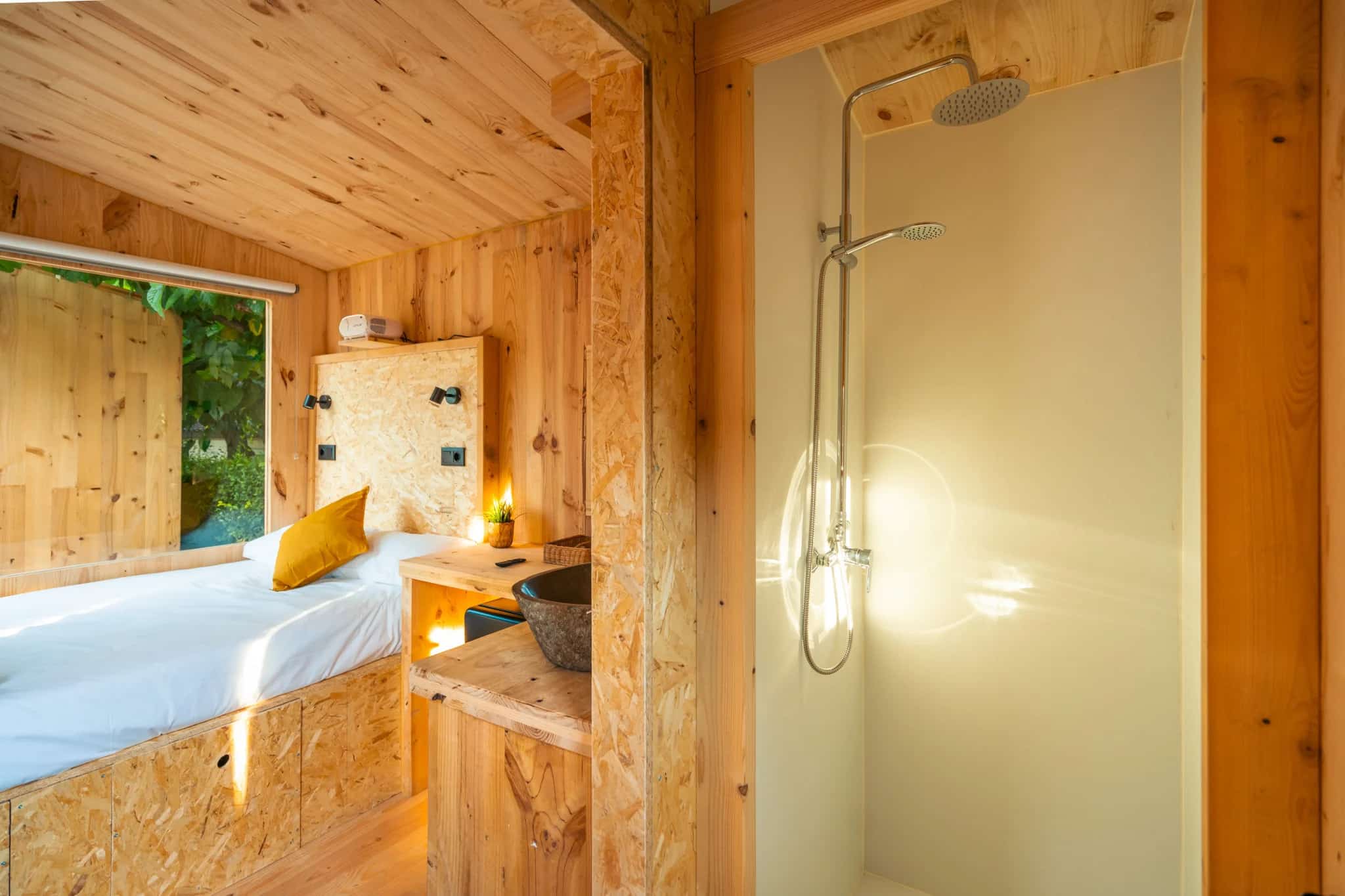 Tiny House
Surface area: 9㎡
Height: 2.8 m
Capacity: 2 persons
Heater, refrigerator, air conditioner, projector, hangers, glasses, plates…
Ideal for couples

Bell Tent
Surface area: 12㎡
Height: 2.5m
Capacity: 2 persons
Heater, polarbox refrigerator, fan, hangers, glasses, plates…
Ideal for couples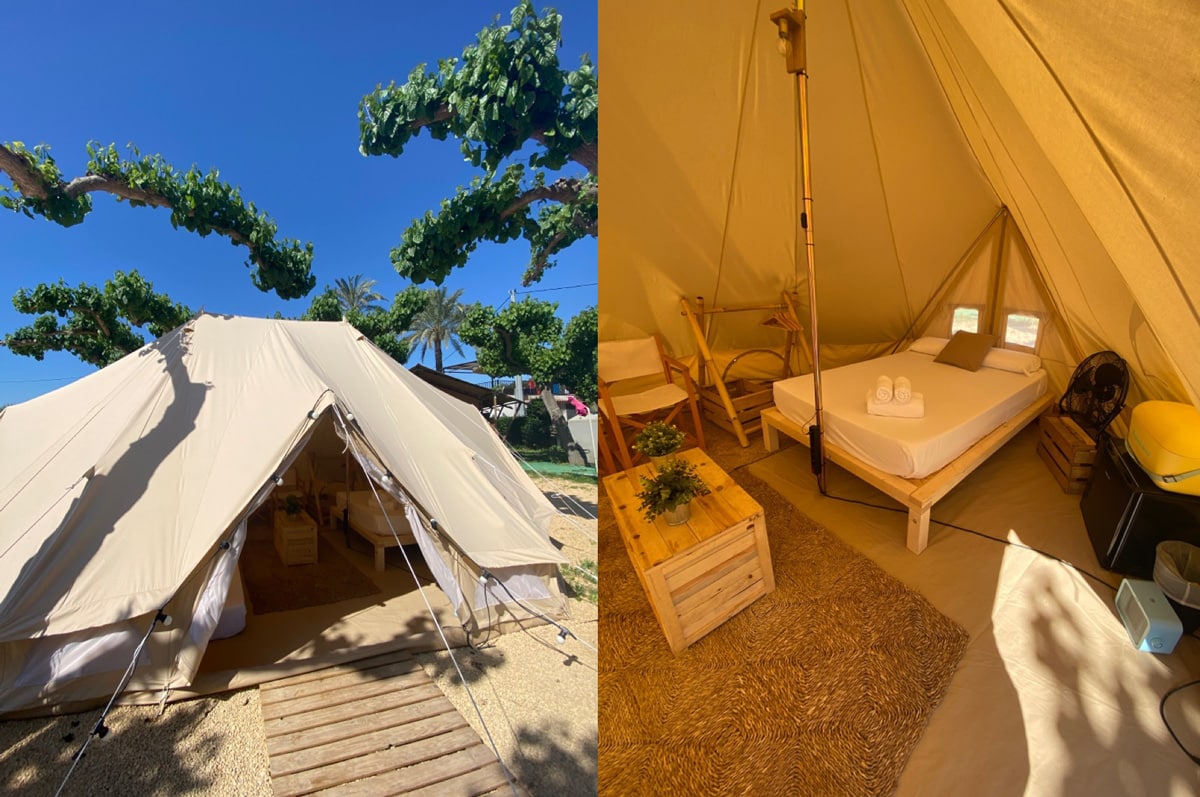 Emperor Tent
Standard Emperor
Surface area: 24㎡
Height: 3 m
Capacity: 6 persons
Heater, polarbox refrigerator, fan, hangers, glasses, plates…
3 beds
Ideal for groups and families
Emperor Mini
Surface area: 15㎡
Height: 3 m
Capacity: 4 persons
Heater, polarbox refrigerator, fan, hangers, glasses, plates…
2 beds
Ideal for families
Emperor with Private Bathroom
Nusa Tent
Private outdoor bathroom on the plot: WC, shower, washbasin.
Emperador Mini with Private Bathroom
Emperor Mini Store
Private outdoor bathroom on the plot: WC, shower, washbasin.
---
Frequently Asked Questions (FAQs) about Kampaoh
What is Kampaoh?

Kampaoh is a Spanish company specialized in Glamping, which offers rental of fully equipped tents in the best campsites in Spain. They usually include a very special decoration, including sheets, comforters, towels, mosquito nets, picnic areas, lights and plugs, among other things.

What type of tents do you offer?

There are a multitude of glamping or teepee tents: Bell, Emperor (Emperor Tents), Emperor XL, Nusa, Nusa XL, Luma or Baku.

Do the tents have their own bathroom?

Some of the glamping tents offered at camping Armanello have their own bathroom in the same pitch. This is new for 2023 and is the Emperador Standard or Mini with Bath.

For the Emperador Standard, Mini and Bell, they have modern shower and toilet blocks just a few meters away, plus laundry, sinks, library, supermarket, restaurant and other facilities.

How do I reserve the tents?

Through the official website of Kampaoh.com you will be able to make your reservation choosing as destination "Kampaoh Levante Beach (Benidorm)".

I go with children… What age is considered a child?

The offers for families at Kampaoh Campings Spain include the extension of the children's age up to 17 years old.

Are the tents available all year round?

No… and Yes. Tents are available at the campsite from May 1st to September 15th. Outside that period we are still open with other accommodations for booking and the Tiny House at Kampaoh.

Do you include sheets and towels?

Yes, the tents include beds, sheets and towels. The tents are set up and equipped, ready to move in. Avoid coming loaded, make it easy and pretty.

How many people can fit in the tents?

Depending on the model, glamping tents can accommodate up to 6 people. By model, the Bell is a 2-person model, the Emperador Mini is a 4-person model and the Emperor is a 6-person model.

Can I book the tents through Booking.com?

Yes, but you will always find the best price on the official Kampaoh Spain website. We recommend that you use www.kampaoh.com as a means to make your reservations of equipped tents and select Kampaoh Playa de Levante if you want to visit us.

We leave you the link if you still want to book through Booking.com.

Are the tents exactly as shown in the photographs?

The videos that appear in this article and the photographs were taken at Armanello campsite in May 2022.

Do I have access to all the facilities of Camping Armanello if I book a tent?

Of course! The only difference is the channel through which you made the reservation, nothing else. You will enter through reception and we will inform you of everything exactly as if you were a customer who has booked another type of accommodation at the campsite. We will show you the Kampaoh area inside the campsite.
How to get to Kampaoh Levante Beach