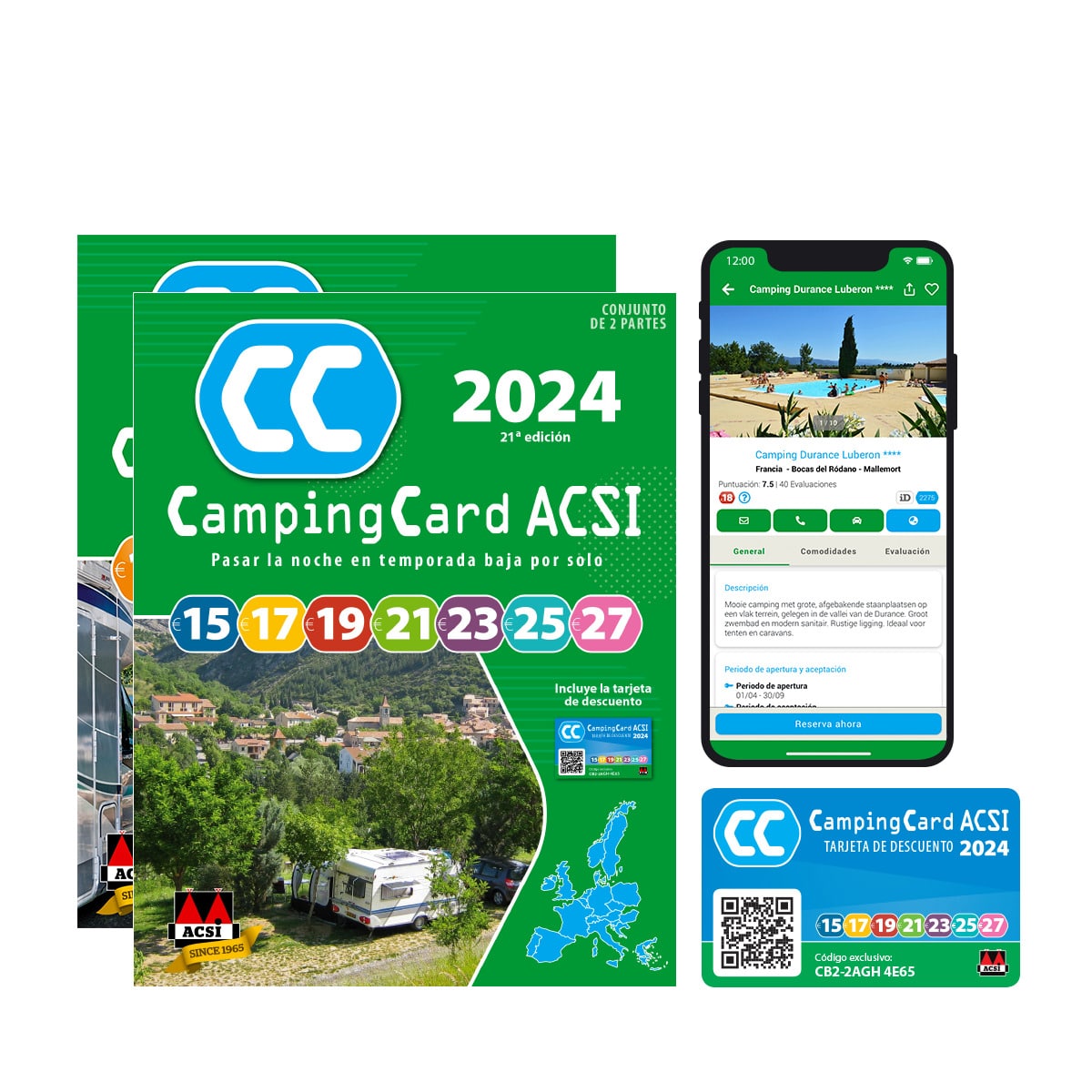 The ACSI CampingCard is the card that comes with the ACSI Guide (price approx. 22€) and gives its owner advantages in the form of fixed rates and discounts in the low season at 3300 European camp sites inspected by ACSI Europe employees.
In this campsite you can enjoy at 21 € / night in 2023 and 23 € / night in 2024, the pitch for 2 persons, 4kw of electricity consumption per day included and 1 free Wifi connection. Contact us.
---
What does ACSI mean?
ACSI stands for"Auto Camper Service International", Serviciones Internacionales para Autocaravanas. It is a Dutch company founded in 1965 by Ed Van Reine and in its beginnings it only had 55 campsites in its guide, far from the 10000 European campsites it inspects nowadays. Of these, approximately 30% accept the ACSI Discount Card.
The campsites are visited every year by an inspector who has been trained in the winter and spring months for this task. There are around 300 ACSI inspectors who check around 200 camp site features to create guides and magazines full of reliable information about motorhome and camping pitches.
---
How does CampingCard ACSI work?
The ACSI Card or CampingCard ACSI works very simply: you have to take it with you on your trip and show it on arrival at the reception of your campsite in Benidorm. The card offers prices for inspected campsites and with the CC logo during the year of validity and some advantages depending on the campsite. The biggest advantage is the fixed price rates, which are cheaper than the lower rates charged by the participating campsites. Same services, cheaper rates.
---
Example of how CampingCard ACSI works.
The García family are looking for a campsite near the beaches of Benidorm and have bought the ACSI Camp Site Guide with the card inside. They have a motorhome and want to go on a trip to Benidorm over the long weekend in December and make excursions to get to know the Marina Baja area. You look in the guide and see the following campsite that accepts CampingCard ACSI.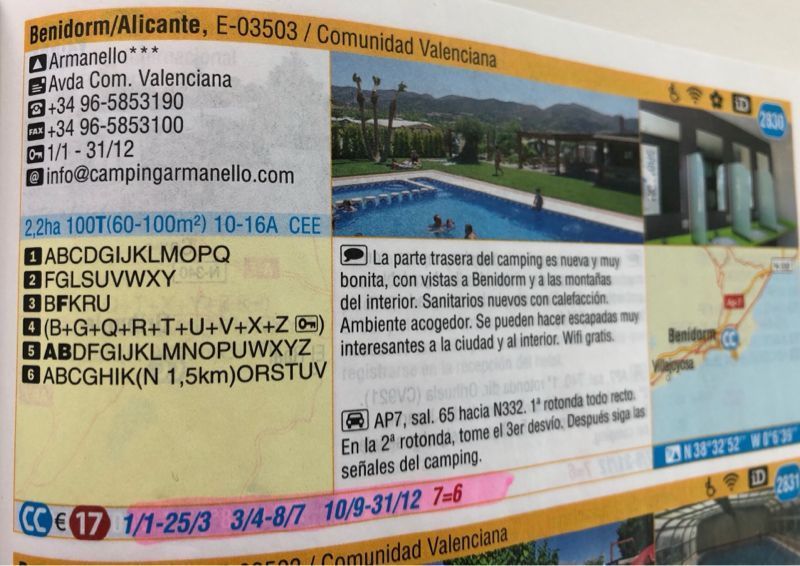 You open the guide and see that Camping Armanello is an ACSI campsite in Benidorm and has a number of features:
3 stars
Plots between 60 and 100m2
10 to 16 Amps
The letters 1 to 6 indicate services and facilities. Consult the guide index
Accept CampingCard (CC)
It is priced at 21 euros with your dates.
The Garcias decide to go to the campsite, present the card and it appears on their bill:
Stay of 3 days
Pitch price for 2 persons, at 17 euros per day: 51€.
Electricity, read on entry and exit:

4kw included per day, 12kw in total included in the 3 days
have consumed 14kw in total in 3 days
they have to pay 2kw, at 39 cents per kw, 0.78 euros.

Free Dog
Total: 64/70€.
ONLY CAMPSITES WITH THE CC LOGO
Only if a campsite is advertised in the guide or www.campingcard.es you will be entitled to discount and always in the periods stipulated by the campsite.
---
ACSI Camp Site, which camp sites can be ACSI Camp Sites?
Years ago the number of ACSI camp sites was limited. If a campsite wanted to become an ACSI campsite, it had to apply for inspection and there had to be no other inspected campsite nearby.
In the course of time this did not make sense as there were many campsites of sufficient quality to be ACSI camp sites nearby, so the proximity restriction was lifted.
Although 200 points are reviewed, the large blocks in which the campsite must comply with more than enough are:
Sanitary
Staff
Quality/price ratio
Suitable for children
Entertainment
Sports facilities
Swimming pool
Eating and drinking
Surroundings
Size of the plots and their amenities
Location of the campsite and its correct coordinates
Camping rules
Dogs and facilities regulations
Details for large caravans and motorhomes
---
ACSI CampingCard rates
Daily price of pitch for 2 persons with car and motorhome: 13€, 15€, 17€, 19€, 21€ and 23€. In 2024 there will also be prices of €25 and €27.
---
Where can I buy the CampingCard ACSI Card?
The ACSI Card is obtained by purchasing the ACSI guide, which can be purchased online, at our campsite (check stock) and, new for 2024, via the mobile app. The CampingCard, as the card is called, comes in the guidebook itself to be used as a card immediately. You can find the inspected campsites on the Eurocampings website.