Don't miss the Castell de l'Olla in Altea, one of the most awaited events on the Costa Blanca! In August, just 7 km from the Armanello campsite, El Castell de l'Olla (El Castillo de la Olla) is held, an exceptional fireworks and music show.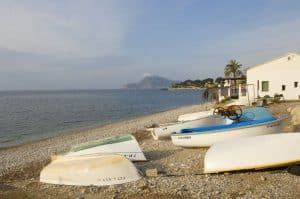 For more than thirty years, on the Saturday closest to the feast of San Lorenzo (August 10), we can enjoy in Altea a fireworks display launched only from the sea. On numerous occasions it has been catalogued as the most spectacular fireworks display in the Mediterranean.
Fireworks of Altea 2024:
When?
Saturday, August 10, 2024
Start and duration?
It begins at 11:59 p.m. on Saturday night and lasts approximately 20 minutes.
Where?
The best place to see it is from the Playa de la Olla, in front of the Villa Gadea gardens, or from any boat.
How to get there?
Due to the multitude of people (around 40,000) who want to enjoy this wonderful night, we recommend access by public transportation. For this, the Tram – Alicante Tramway, has a special extended schedule that you can find on its website www.tramalicante.es. The bus stop 600 meters from the campsite is Disco Benidorm.
Where to dine?
It is very common for restaurants, bars and beach bars in the area to prepare special menus to celebrate this popular festival, but remember that it is almost obligatory to make a reservation in advance. You can also choose to go in the afternoon and have dinner on the beach, we hope you enjoy it!
---