In this article we are going to talk about shopping in Benidorm. We will explain where to go shopping in the town and in the outskirts, such as in Finestrat, just a few minutes drive away.
Shopping, beach and leisure. Everything you need is right here.
SHOPPING CENTER (FINESTRAT) – CC LA MARINA
This is the shopping centre near Benidorm, 5 minutes by car and only a few kilometres away.
In La Marina Finestrat Shopping Centre you will find all kinds of shops, many of the Inditex group such as Zara or Massimo Dutti and other franchises and independent brands.

La Marina Shopping Centre: Opening hours
The summer opening hours of the CC La Marina Finestrat are from 10.00h to 22.00h from Monday to Saturday and from 12.00h to 22.00h on Sundays.
List of the most important stores in CC La Marina Finestrat:
H&M
C&A
ZARA
ZARA HOME
GAME
Massimo Dutti
Pull and Bear
Ale-hop. Different articles, fun and ideal for gifts.
Stradivarius
Swarovski
Springfield
Tous
Druni
IKEA. Ikea shopping point to order your items and have them delivered to you. Ikea Corner. It is not the usual physical store.
Jysk. Home decor items for your home with Nordic inspiration.
HOUSE. All kinds of items for your home with a charming touch.
IMF Finestrat Cinemas.
EL CORTE INGLÉS OUTLET
A special section deserves the Outlet of Benidorm and Finestrat, the Outlet del Corte Inglés. If you are looking for real bargains without caring too much about fads or seasons, this is definitely a place of worship for your shopping day. Try to avoid weekends, as it is a very busy place and although it has independent access to the CC and a large car park, it tends to fill up.
COMMERCIAL BOULEVARD FINESTRAT
Located in the same area of the CC La Marina, we will find the commercial boulevard of Finestrat. A large area in which we will find, in addition to the CC La Marina, all of the following:
Ecorganic Ecomarket – Supermercado Ecológico. Un referente en Alicante para todo aquel que busque productos Bio. Tienen más de 7000 referencias y productos frescos directos del productor.
LIDL
Juguetilandia
Carrefour
Mediamarkt
Sportzone. Sportzone merged with Sprinter and is today one of the strongest chains in sporting goods. Surely they have that swimsuit or beach accessory you need.
Decathlon. This Decathlon is smaller than others but has a great selection of sporting goods.
Leroy Merlin
Conforama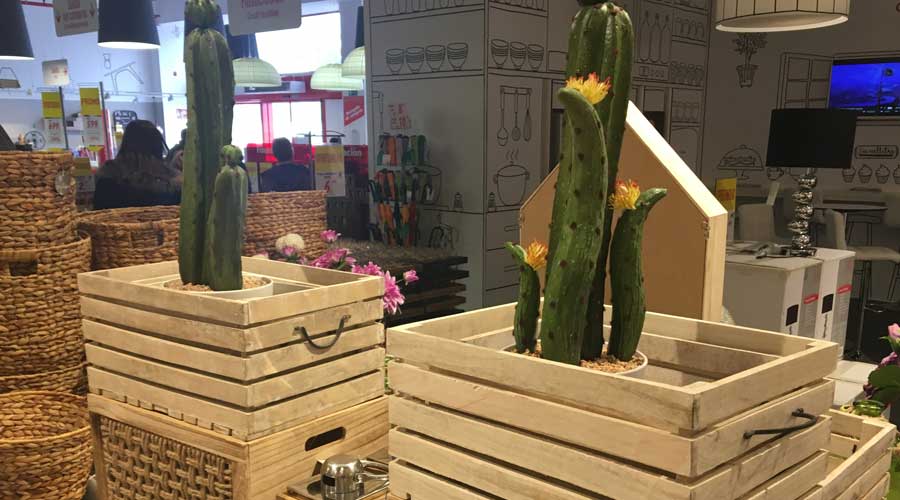 Burger King
Taco Bell
Foster's Hollywood
Low Cost Gas Station
Maison du Monde
BENIDORM SHOPPING CENTRE
The Benidorm shopping centre is planned for 2022 and is still under construction. Benidorm has a large number of small shops selling high quality products.
You can find most of them in the centre of Benidorm.
SHOPPING IN THE CENTRE OF BENIDORM
Let's talk about one of the biggest attractions of the city, which is to stroll around while you do some shopping and enjoy a drink in one of the terraces. And most importantly, with a very interesting schedule, as they are usually open late into the night.
The main shopping streets in Benidorm are:
– Gambo. In this street you will find Zara Benidorm, Massimo Dutti, Boston or Perfumerías Avenida, with the best offers in cosmetics and perfume brands. You will also have the Lottery Administration number 4 in Benidorm.
– Martinez Alejos: is the avenue that leads to the Levante Beach from the famous Cafeteria la Creu. On the way to the beach you will find interesting shops such as Tiger, Cool, BASE: with its two floors of sports brands, Douglas perfumery, Di Marco Jewellery or the famous Pinocchio ice-cream parlour.
– Paseo de la Carretera. Probably the most famous street in Benidorm. With the first lottery administration, the first tobacconist or the oldest pharmacy. It connects the city centre with the port and the beginning of the Poniente beach. Clothes shops, galleries that connect with the Plaza Mayor and a great diversity of shops such as fur shops, opticians, jewellers, souvenir shops or leather goods shops. Almost arriving at the port we will find Cool Meeting, a store of several floors of fashion and brand offers.
– Tomas Ortuño. Recently pedestrianized, the street has a good number of boutiques and shops that we can visit after passing by the municipal market or the Calvari museum, with exhibitions about Benidorm.
– Alameda. From the cafeteria La Creu, we will pass the famous palm tree and start our way to Benidorm Castle. This street gives access to the slope towards the square of the Church of Santa Ana and San Jaime. Ibicencan clothes shops, footwear offers, boutiques and terraces where you can have a Gin Tonic or a frozen yoghurt.
In the first four you will find small shops with different items: shoes, clothes, fashion and accessories, home decoration, candles or bargains. All mixed with some frozen yogurt shops, amazing waffles, artisan ice cream, beer or pintxos.

SHOPPING IN ALICANTE CAPITAL
If you decide to go shopping in Alicante, we recommend the following places:
Plaza Mar 2
Gran Vía Shopping Centre. There you have the Primark Alicante store. Here is the link on how to get to Primark from Benidorm, which we know is important.
Maissonave, with the Corte Inglés and many interesting shops like Kiko, Sephora and others.
If you liked our article about shopping in Benidorm, you might also like our post about What to do in Benidorm.