If you have arrived here is because you do not want to go to the Sierra de Madrid, but you want to find good beaches for dogs in Alicante.
Sand, waves, fishy smells and lots of birds are just some of the reasons why dogs love beaches. But unfortunately, not all beaches allow access to our four-legged friends.
Especially in summer, when the beaches are more crowded and are open for limited hours.
---
Alicante is one of the most popular cities in Spain. And not in vain, because it has absolutely everything: wonderful climate and air, sea, sun, nature and, of course, beautiful beaches. The province of Alicante has more than 200 kilometres of coastline. And in this province there are already 7 official beaches for dogs:
Cala del Xarco (Villajoyosa)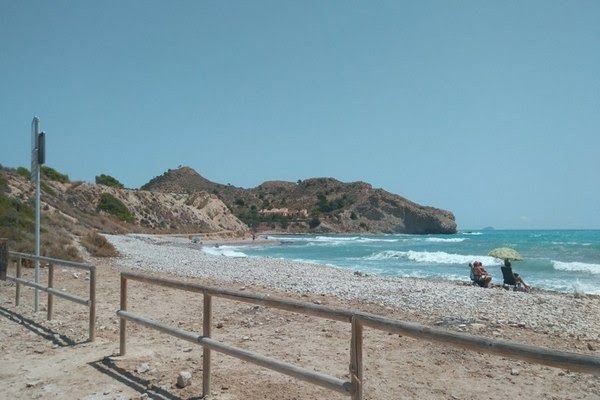 Cala del Xarco beach is located in the municipality of Villajoyosa and has a length of 580 metres and an average width of 6 metres. It is a small natural beach of gravel and rock. It is open 365 days a year and has no time limit.
Your pet can run on the beach, swim and play with other dogs while enjoying a day at the beach. Without worrying about the Coast Guard coming and asking to leave the beach.
---
Agua Amarga Beach (Alicante)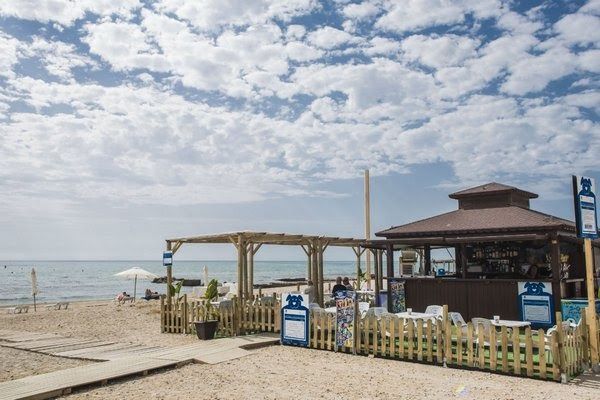 This beach is located between the city of Alicante and Urbanova and has about 250 meters of coastline. Agua Amarga is considered one of the best dog friendly beaches in Spain.
It stands out for its luxury service: specialized kiosks for your pet with disposable feeders and drinkers included. And on the beach there is not only a "human" menu, but also a "dog" menu, where there are refreshments for two.
---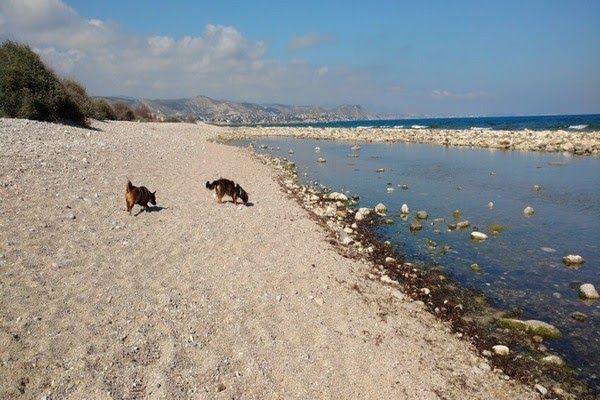 Punta de Riu Beach (Campello)
Beach, adapted for use with pets, located in Campello next to the mouth of the Rio Seco. Punta de Riu Beach is 400 metres long and 8 metres wide. It consists of stones and pebbles. It is open all year round and has no time limits.
Dog owners love how clean this beach is. Therefore, visitors tend to be respectful enough to keep it that way.
---
Les Llomes de Reixes Beach (Campello)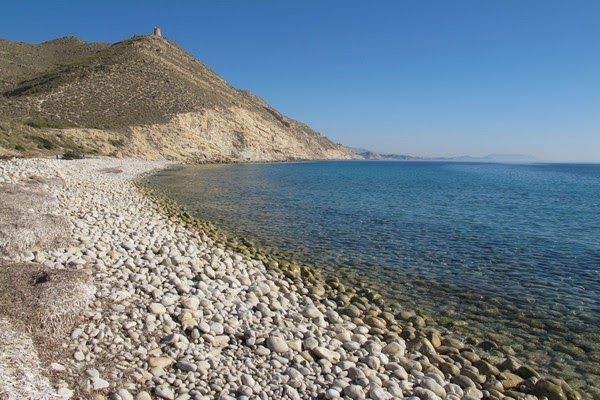 Also in Campello there is a second canine beach – the Barranque beach, located next to the protected nature reserve of Lloma de Reixes. It is a natural beach protected by a small cliff and practically virgin, of pebbles and gravel. Dogs are allowed here for free and it is not overcrowded, which is ideal for walking in the summer season.
---
Gossets Cove (Santa Pola)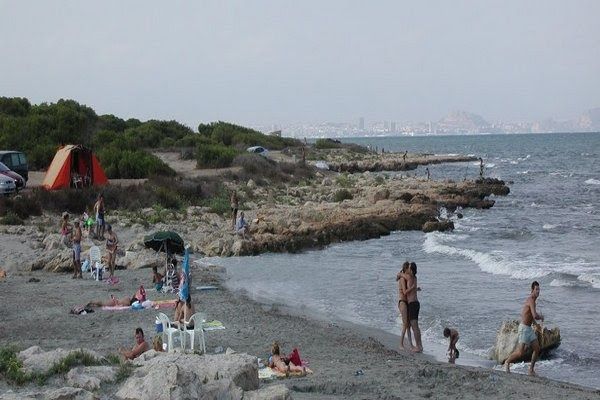 La Caleta dels Gossets is a small cove that forms part of the Calas Del Cuartel coves located next to the cape of Santa Pola.
This dog-friendly beach consists of fine golden sand, gravel and rocky bottom. There are services such as cleaning, litter bin and surveillance. La Caleta dels Gossets is a quiet beach where even the most frightened dogs will be happy to swim here. No time limits, ideal for walking with your four-legged friend.
Basically, the dogs on this sandy beach are quite friendly, so pets rarely "fight" here. In Caleta dels Gossets, dogs of different breeds and sizes have the opportunity to meet and play with other dogs.
---
Escollera Norte Beach (Dénia)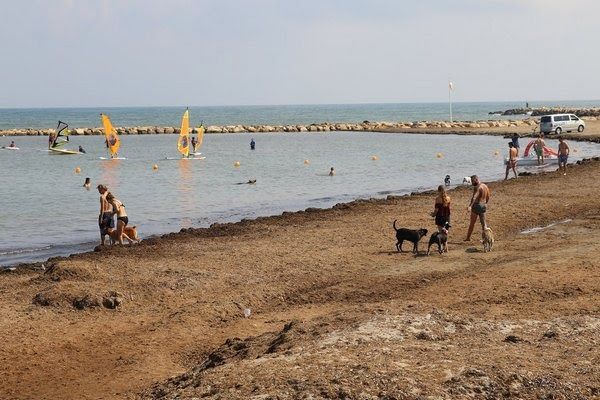 Playa Escollera Norte is located in Denia near the port area, so it had a number of problems to convert it into a dog friendly beach. It has an area of 100 meters long and has no amenities. Its soil is made of gravel and sand, and the water is calm.
However, on this beach not only dogs but also their owners enjoy swimming. Dogs of different sizes walk here: from chihuahua to bullmastiff.
---
Sea and Mountain Beach (Altea)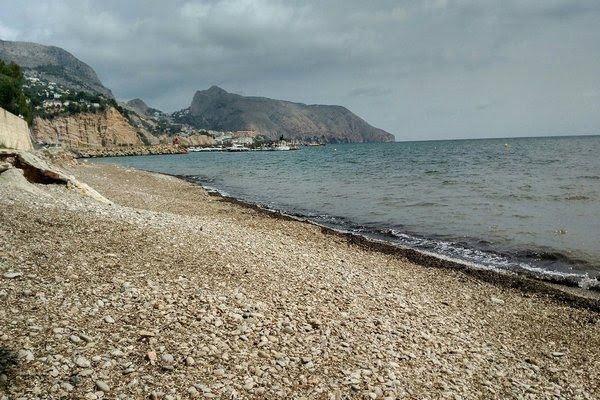 This is a dog friendly beach located very close to the residential complexes of Altea Hills. It has a small and narrow shingle coast. One of the few in this area that allows you to walk your pets. Lots of seaweed in the sea next to the beach. Playa Mar y Montaña has no services, only parking nearby.
---
Basic rules about dogs on beaches
Relaxing with your dog on the beach is fun, but everyone should remember the basic rules on the beaches so you don't get an administrative fine:
Collect the droppings and place them in the designated container;
Do not disturb other people on the beach;
Always have a vaccination card, passport and all necessary pet documents that may be required by the authorities;
Use a muzzle and leash if necessary.
Tips for 1 day at the beach with a pet
On a walk, you should carefully monitor the health of the pet. Do not allow the dog to eat anything: the remains of food can cause intestinal discomfort, sand, small stones and hooks. All this can cause serious damage to internal organs.
Don't forget a bowl and drinking water. It is advisable to keep it cool: animals need a plentiful drink on a hot day. This will prevent heat stroke.
There may be jellyfish in the sea, so the animal may get burned. The burned area should be rinsed with sea water as soon as possible and ointment applied. Ointments containing aloe vera extract help well.
If you notice any deviation in the animal's condition after a walk, indicating that it is unhealthy, be sure to show the dog to the veterinarian.
---
And now that you know that you don't have to go to the Canary Islands for a good beach with dogs, you have to look for accommodation in Alicante.
It is difficult to find rural houses that allow dogs or even hotels. There are also some apartments that allow dogs, but do not hesitate to contact us because we have camping bungalows where we admit pets and we are close to all these beaches.
Enjoy spending time with your pet on these beaches in Alicante!