The Fuentes del Algar, or Fonts d'Algar (in Valencian), are a natural site with a circuit of 1.5 km consisting of a set of waterfalls and pools of water conditioned for natural conservation, sightseeing and bathing. It is located in the town of Callosa D'En Sarrià, very close to Guadalest.


What does this mean? So we can enjoy a day of swimming in nature and environmental learning by paying our entrance fee. We will be able to bathe in natural pools and in very cold waterfalls in one of the most touristic places of the Valencian Community and Spain.
⛲ Els Tolls
We will go up the bed of the river Algar ("cave" in Arabic), by stairs and handrails conditioned along the river bed. This circuit of 1.5 km will allow us to stay wherever we want, in the waterfall or pool we want to swim and spend the day. Here the pools are called "tolls", which means backwaters.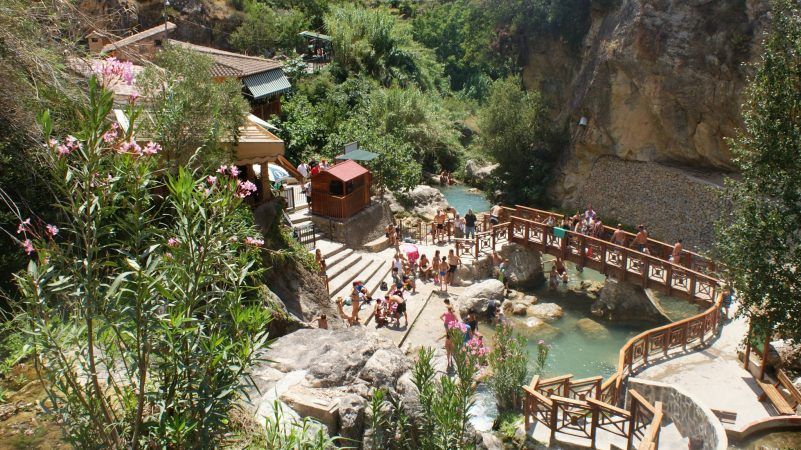 "Els Tolls" are formed by a geological phenomenon called karstic modelling. We assume you're not a geologist (neither are we). Basically the limestone rock in this area is easily eroded by the water from the river and the rains and forms a furrow full of holes for the pools.
Climbing this circuit, in 45 minutes we will be in the highest part of the route. We will find toilets, picnic area and barbecue. And if anything should happen to us, they have first aid and lifeguards in summer.
You should wear comfortable shoes and clogs or booties for the water. Your feet will thank you in and out of the water.
El Toll del Baladre
It may be the most photographed toll of all (you can see it below in photos). It is located under the old dam. You will easily recognize it as you pass by. Look at the vegetation typical of the Mediterranean basins. You will see a shrub quite tall, up to 3 meters, with pinkish flowers: the oleander, oleander or rose laurel.
How to go to the Fuentes del Algar?
By Car
Las Fuentes del Algar is located about 15 km from Benidorm. It takes about 20 minutes by car along the CV-70 road from our campsite in Benidorm.
By Bus
We can also take the daily bus from Benidorm to Algar. It leaves in the morning and returns in the afternoon, only once. Consult Line 18 in Llorentebus – Grupo Avanza for updated timetables.
Opening hours and calendar
The Algar Springs are always open, except for the holidays of January 1st and 6th and December 24th, 25th and 31st.
Diciembre a 29 de Marzo: 9.00h – 15.30h
1 de Marzo a 15 de Junio: 9.00h – 17.30 / 18.00h
15 de Junio – 30 de Septiembre: 9.00h – 19.00h / 20.00h
1 de Octubre – 30 de Noviembre: 9.00h – 17.30h / 18.00h
☎️ Telephone
Entrance fee to the Algar Springs
The entrance ticket prices are about 5 euros per adult and 2 euros per child. Discounts apply for groups, young people, retired people and it is free for babies between 0 and 3 years old and disabled people.
Low Season : October 16 to June 14
Adulto: 4 €
Niño (4 – 10 años): 2 €
Niño (0-3 años) y Discapacitados: Gratis
+65 años y Jubilados: 3 €
Estudiante o Carnet Jóven: 3 €
Grupo Adultos: 3 €
Grupo Niños: 1.50 €
High Season : June 15 to October 15
Adulto: 5 €
Niño (4 – 10 años): 2 €
Niño (0-3 años) y Discapacitados: Gratis
+65 años y Jubilados: 4 €
Estudiante o Carnet Jóven: 4 €
Grupo Adultos: 4 €
Grupo Niños: 1.50 €
Also, remember to bring the documentation that proves your status. And we recommend you to go during the week, avoiding the crowds on Saturdays and Sundays, especially in high season and summer.
️ Parking
Continuing with the important things, here are the most common parking areas to visit Fonts d'Algar:
Oficina de Turismo: aparcamiento gratuito a unos 600m. Ubicación.
Parking Fuentes del Algar: este parking es el "más económico", sobre 5€ por todo el día. Ubicación
Restaurantes: algunos restaurantes, como Casa Marcos, descuentan parte del ticket del parking Fuentes del Algar de las consumiciones del bar o la piscina.
Parking Center Algar. Ubicación.
Photos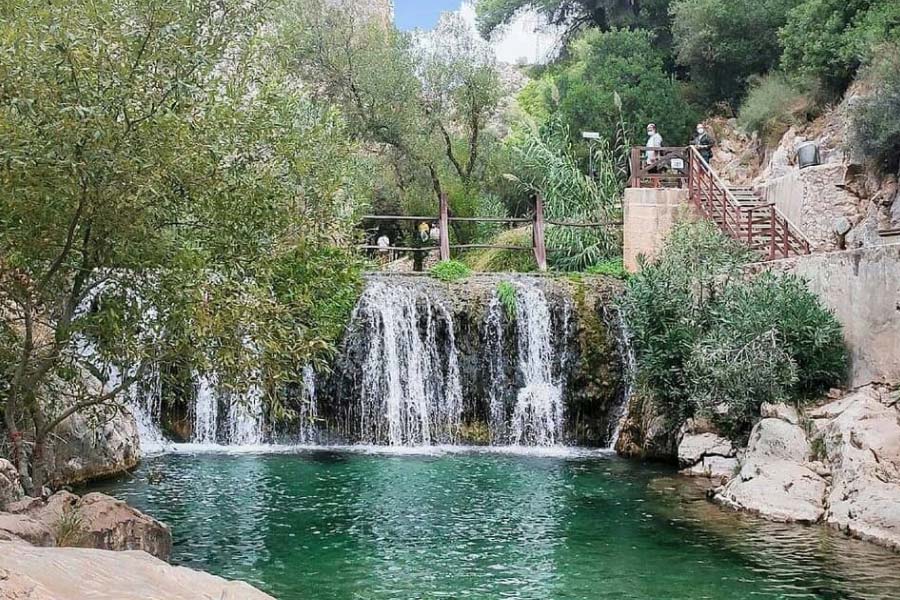 Restaurants
Restaurante les Fonts
Restaurante El Algar de Don Joan
Casa Marcos
Restaurante El Valle
Dogs
You can bring your dog from 16 September to 14 June. As in any place, you have to pick up their droppings, take them on a leash and it is forbidden for them to bathe. Access is not allowed during the summer.
️ Surrounding area
Algar River
Just so you know, the river Algar is quite short, about 12km long and runs from the Sierra Del Ferrer (Callosa D'En Sarrià) until it flows into Altea, in the Mediterranean. It is a natural space with a high degree of conservation and care. Its tributaries are the river Guadalest and the river Bolulla.
In 2002 the area around the Fonts de L'Algar was declared a protected wetland area.
Hiking
We recommend the route to Fort de Bèrnia, where you can enjoy great views all the way to Calpe! There we will find the Cova del Bardalet (Cave). Look for the route PR-CV 48.
Camping and Environmental Education
Continuing with respect for the environment, the nature school for children is located in the municipal campsite Fonts de Algar and offers workshops. Being only 20 minutes from the Fuentes del Algar, we think that our campsite is a great option for quality and price. Stay in one of our bungalows to sleep for a few days and make an excursion to the Fuentes de Algar.
Here the children will learn everything necessary for the conservation of the natural wealth of the environment. Thanks to the Valencian Government and actions like this one, tourism and education resources are merged.
You will find areas of:
Biología
Agroturismo
Hidro-Geomorfología
cultural
Interpretación ambiental
Tips
Finally, here are some tips for visiting the springs, waterfalls and pools:
Si vas con niños pequeños, llévate flotadores.
Lleva calzado adecuado y ropa de cambio.
Respeta las normas y no saltes a las pozas o tolls desde lugares no permitidos.
No alteres la flora y la fauna. No dejes comida o basura que puedan comerse los animales y no te lleves piedras o flores.
Intenta no ir en fin de semana.
Piensa que es un río y el agua está muy fría…
In conclusion, Las Fuentes del Algar or Fonts de L'Algar are a unique natural spot that will make us spend a different day. Ideal to spend it with children, with friends or with your partner. If you are looking for quieter and less crowded places, we recommend our article about the best natural pools in Alicante.