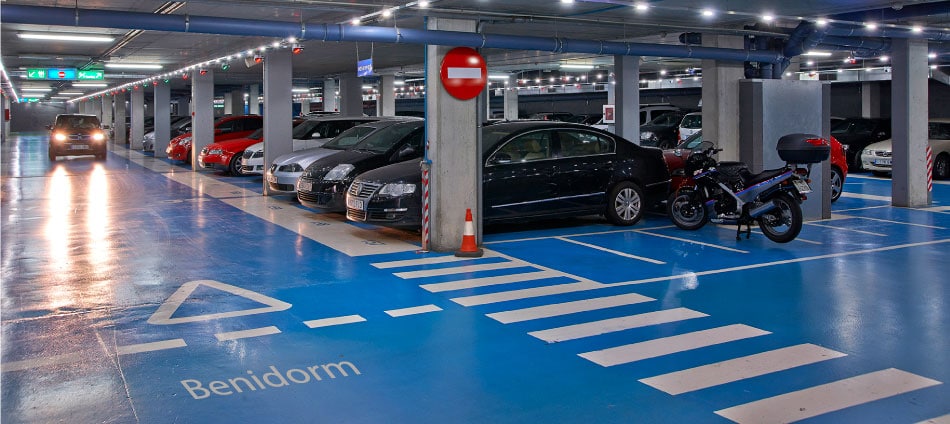 We tell you where to park in Benidorm: public parking, free parking, park-and-ride lots, blue zone, low cost parking…
Free parking
Let's start by saying that free parking in Benidorm is complicated, depending on the area and the time of year. Finding a free, white dashed-line parking space can be tedious.
In autumn, winter and even spring, except for some weekends or long weekends, it is relatively easy to find parking in Benidorm. But in summer it is complicated. This is where we recommend using public transportation, cycling or parking in park-and-ride lots.
Benidorm Residents Zone
You must pay attention, since the areas with continuous white lines are usually residents ' areas. There are vertical signs indicating "Residents' Zone 'A'", where only vehicles with a sticker issued by the City Council may park.
---
Low Cost Parking Benidorm
There is the option of a low cost, private parking, from about 9.50 euros per day. This parking in Benidorm is located at Avenida de la Aigüera 7, from where we can access the subway parking.
---
Paid parking
These parking lots are subway, and we recommend the Ruzafa parking lot for its price. Here is a list of the best parking lots in Benidorm according to the area you want to visit:
---
Free public parking lots (park-and-ride lots)
Although the word "dissuasive" does not sound good, the idea is to reduce traffic in the urban center in favor of other, healthier and more sustainable means of transportation. You can park for free in these park-and-ride lots and use public transportation, your electric scooter or bicycle to comfortably reach the Center. You can also walk, as distances are quite short in Benidorm.
Caption:
Dissuasive parking lots "near" the center of Benidorm
Dissuasive parking lots "near" Rincón de Loix and Levante beach
Dissuasive parking lots "close" to Playa Poniente
Av. de Inglaterra, S/N
C/ Virgen del Rocio
Plaza Prelado D. Antonio Bayona S/N
Foietes Park Location
9 de Octubre Av.
Av. Foyetes
Av. Venezuela No. 10
Honduras Ave.
Av. Xixo
Av. de Cuba
Av. de Benisa nº 1
Av. Marina Baixa nº 4
Av. Marina Alta S/N
C/ Presidente Adolfo Suárez
C/ Comellana
Av. Villa Joyosa
C/ Pajares
C/ Secretary Mr. Juan Baldovi
Av. Spiller
7 Zamora St.
Av. Admiral Bernat de Sarria
Av. Francisco Llorca Antón
Av. Valencian Community
Barrinada Road
Av. Vicente Perez Devesa
Av. John Paul II
Av. Beniarda S/N
Salto del Agua
Salto del Agua Road
Italy Street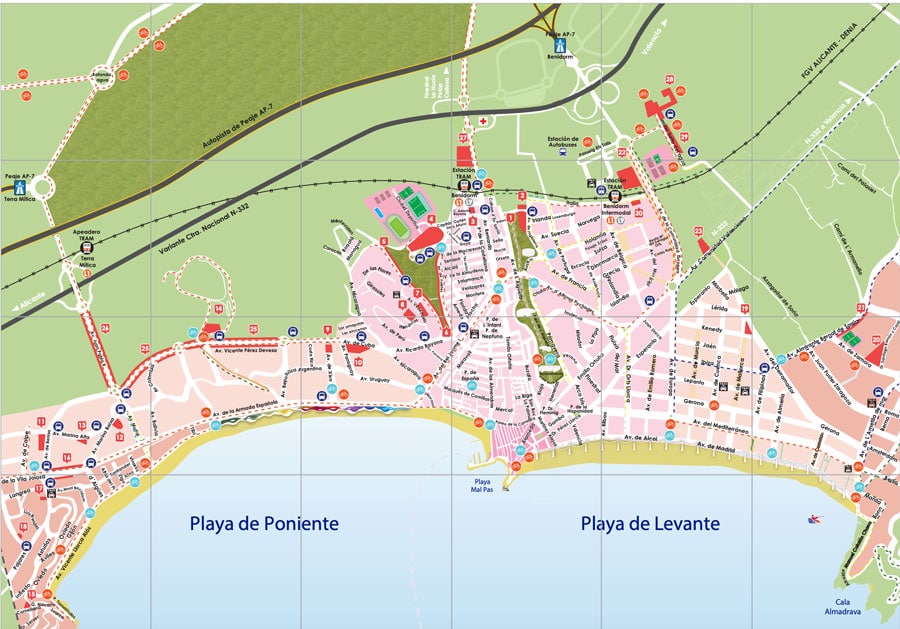 ---
Blue Zone in Benidorm
Is there a blue zone in Benidorm?
Answer: Yes, there is parking in Benidorm with blue zone parking spaces all year round, and blue zone parking spaces in summer.
How much does the blue zone cost?
Answer: The price ranges from 0.25 euros for 30 minutes (the minimum) to a maximum of 1 euro for 2 hours of parking time.
Is there an app to pay the blue zone in Benidorm?
Answer: Yes, Benidorm allows the payment of blue zone tickets through the "Flowbird" App. Thanks to this system you will not have to go to the car once parked to renew or obtain a new ticket. You can enjoy the beaches of Benidorm without going back to the car.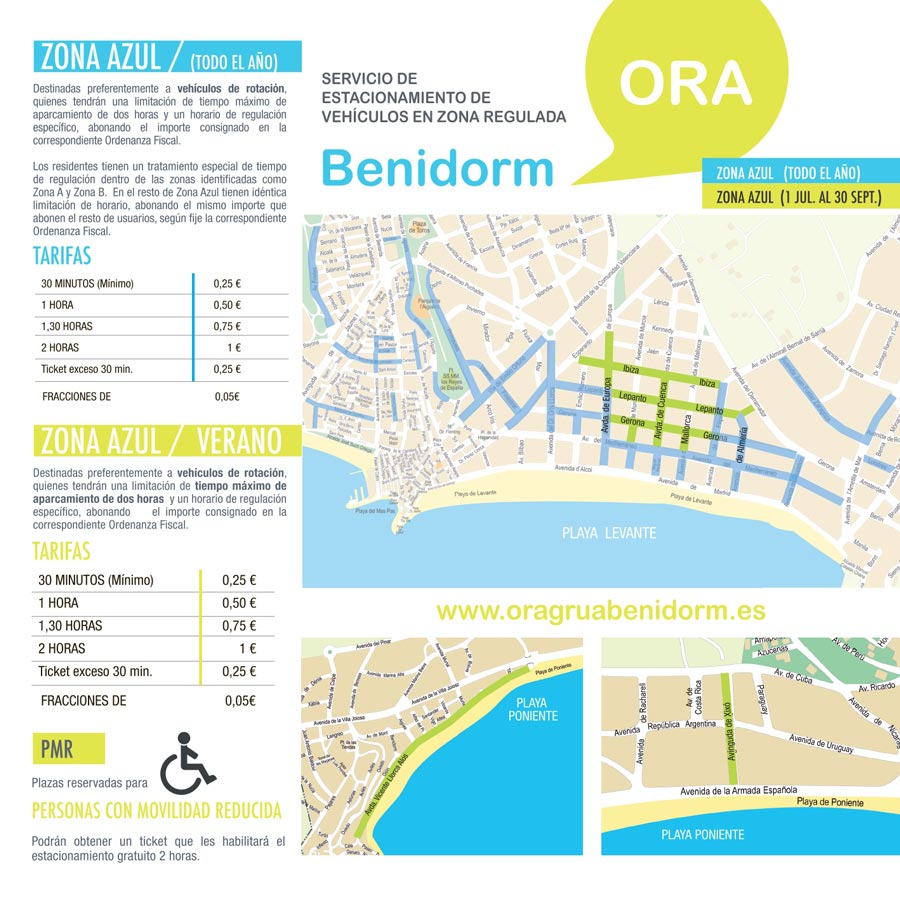 ---
We hope this post on how to get parking in Benidorm or park in Benidorm has been helpful. Remember that distances are very small in this city and you can walk and bike everywhere.