✔ Do you think you know all the beaches in Benidorm? You probably haven't visited any of them. We offer kilometers of fine golden sandy beaches, clean and crystalline water and more than 3000 hours of sunshine per year. All the ingredients that make Benidorm Beaches today one of the best beaches in Alicante, the Costa Blanca and Spain.
In addition we can not forget those small coves of Benidorm so paradisiacal. Do you know all of them? We tell you more so you can choose the best beach in Benidorm for you. And remember that going to the beach is just one more of the 35 things to do in Benidorm.
---
Levante Beach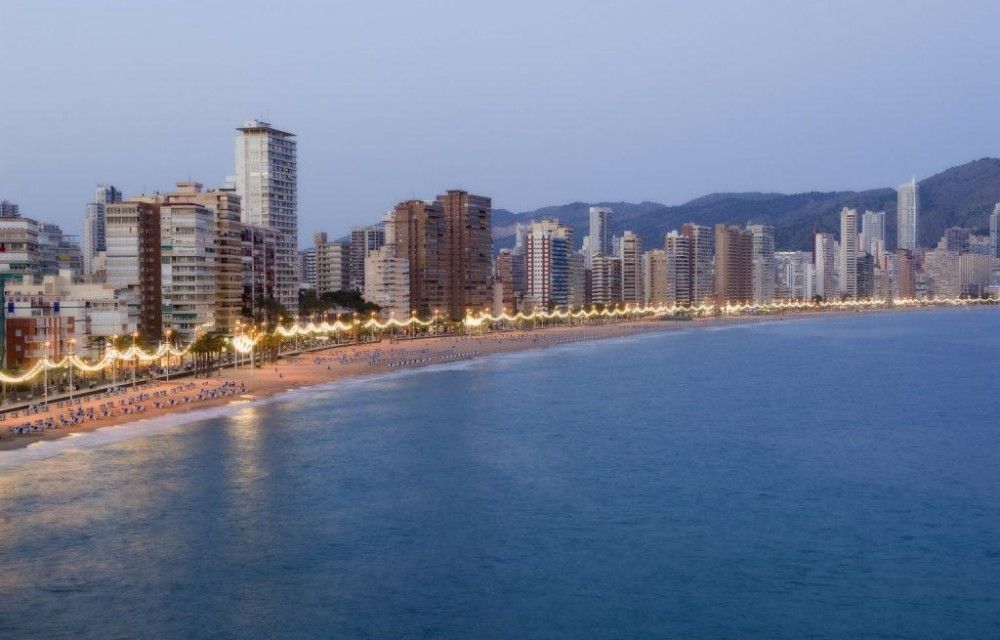 Who does not know the Levante beach with its blue flag? Probably, if we go to a village of 100 inhabitants in the Alps and show a photo of the Levante beach to any of its inhabitants, they will recognize it at first sight. It is an urban beach of fine sand and crystalline waters, surrounded by imposing buildings where there are services such as hammock rental, footbaths, walkways, swings and playgrounds, beach library…
It is the most popular among visitors for its characteristic bustling promenade and the wide range of restaurants and bars facing the sea. You will find people of all nationalities. In addition, it is the place par excellence of the night of Benidorm as we find pubs like Penelope Beach, KU Lounge or KM, among others.
It is also home to the first cable-ski circuit in the sea, where you can practice water skiing, wakeboarding and kitesurfing. There are 1,000 square meters where up to 12 skiers can practice at the same time.
---
Poniente Beach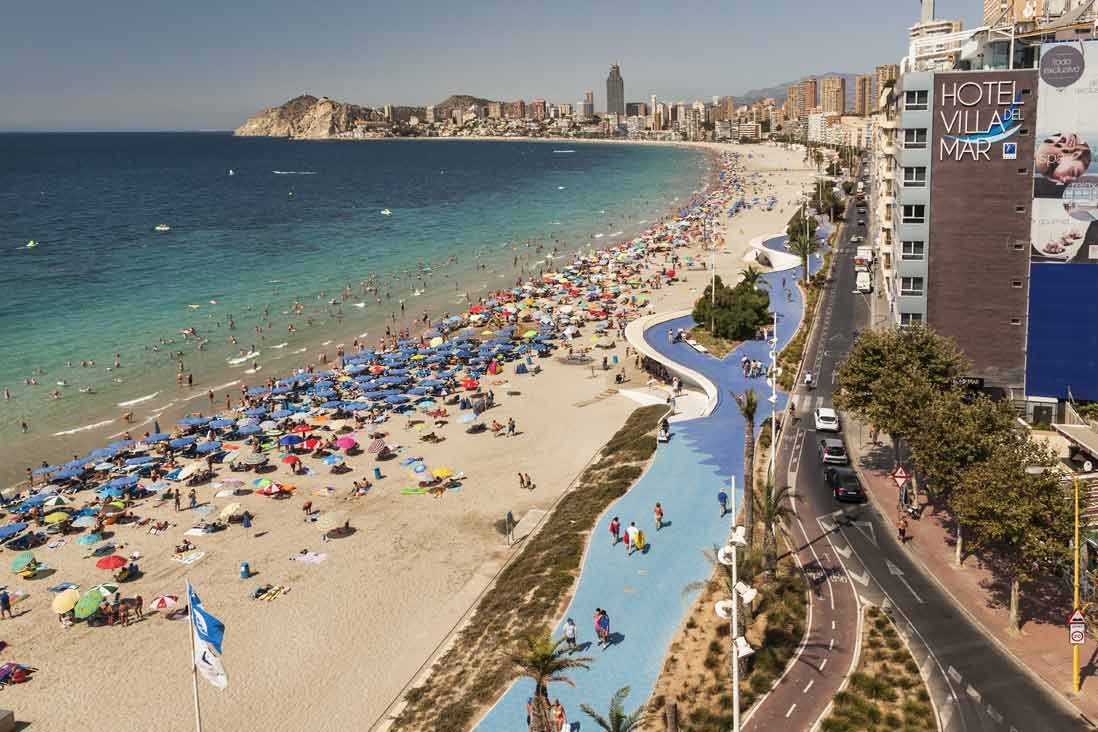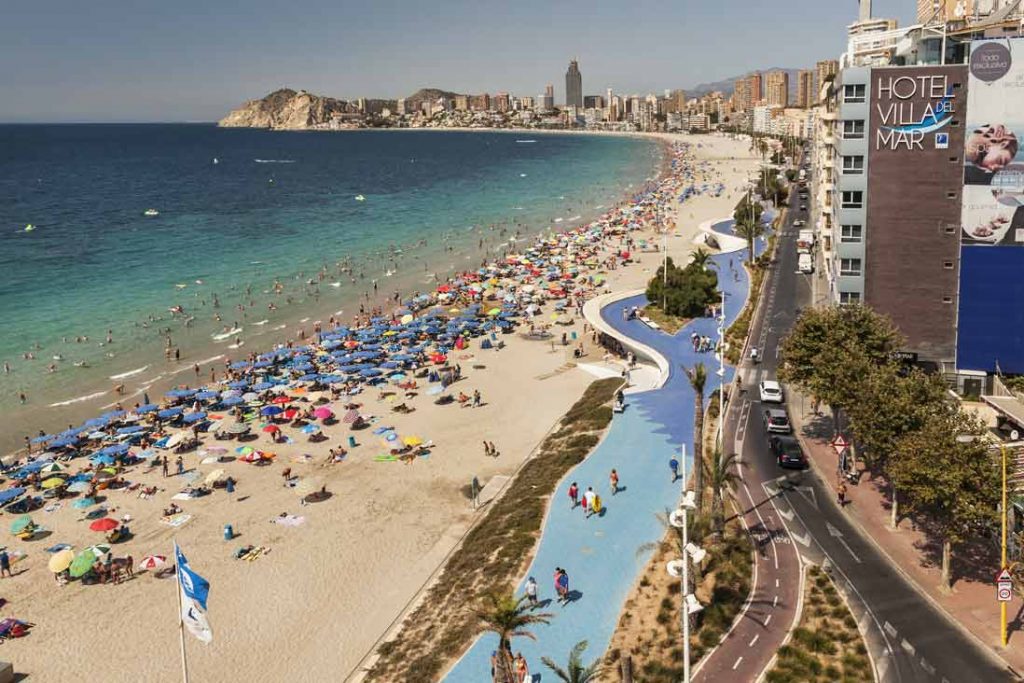 If we talk about the beaches and Benidorm, we cannot forget the Poniente beach (where the sun sets), the antagonist of Levante. And yes, it also has the Blue Flag distinction. This beach of more than 3 kilometers long is a magnificent beach for swimming: fine sand under your feet, always clean and crystal clear water, fun aquatic platforms,… It has hammock services, accessible walkways, volleyball nets and goals. The colorful west promenade is completely renovated and has a bike path and many places to have a drink in front of the sea, enjoying the sun of Benidorm. In addition, it has won numerous international awards for its avant-garde design.
Video of the Poniente Bike Ride along the Bicycle Lane
A secret: if you are looking for a beach of these characteristics, but you feel like being a little quieter, we recommend you to go to the end of the Poniente Beach, under the Tossal. It is a much less known and, therefore, less busy area.
---
Mal Pas Beach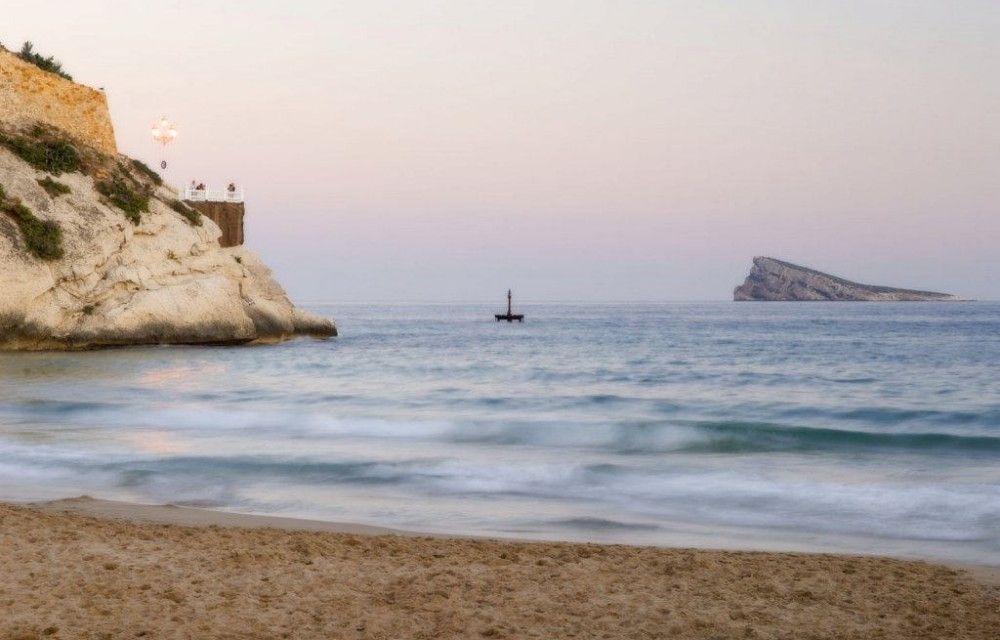 The last of the beaches and the most curious and different. Very photographed from the Mirador del Castillo . Surrounded by cliffs and next to the marina, Mal Pas is a charming urban cove with sand and clean water. It also has a sun lounger rental service and lifeguards and obviously has the Blue Flag.
---
Tio Ximo Cove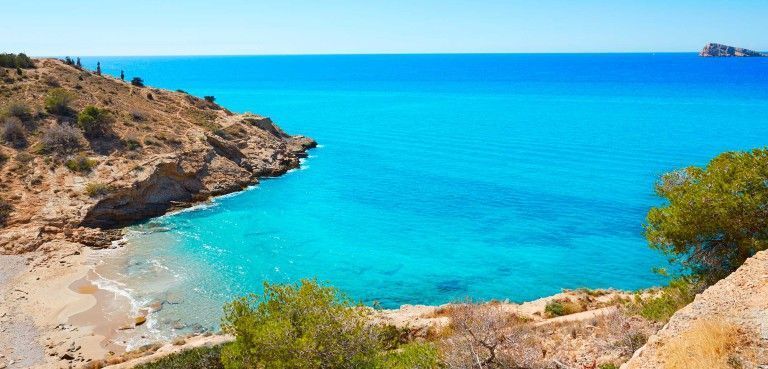 Less than 4 km from the campsite, we find a cove of sand and fine grain in the Natural Park of Serra Gelada or Sierra Helada. Quiet, charming cove, it is the perfect place to practice snorkeling . Although it is small, umbrellas and hammocks can be rented, as well as a security post.
---
La Almadraba / L'Almadrava Cove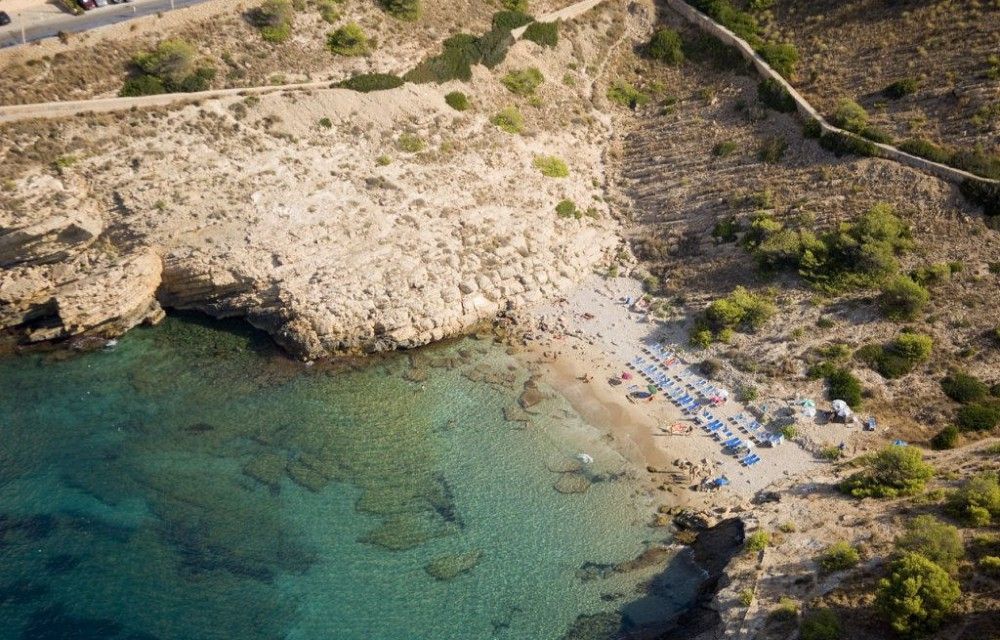 Probably the most unknown of the coves (near the Rincón de Loix) and, therefore, the most prone to relaxation and rest. In the middle of the Sierra Helada natural park. A cove of sand and small rocks and transparent waters. Perfect for diving or snorkeling in Benidorm because of its rich rocky seabed. Its size is between 60 meters and 100 meters. It is also perfect if you want to do naturism. Sun loungers and umbrellas are available during high season.
---
Other coves near Benidorm and other nearby beaches
If you are looking for coves near Benidorm we recommend the Cala de Finestrat, although due to the amount of people it is closer to being a beach. For a quiet cove look for the Cala del Metge, in Albir, which will give you the privacy that a beach does not give you.
And if you are looking for nearby beaches, the beach of Albir, which is made of pebbles. It is well known among regular visitors. Also the beach of Bol Nou, in Villajoyosa, which also has a beach bar.
---
These beaches of the Mediterranean could not have a better image on the horizon than the Benidorm Island where there are also places enabled for bathing. It is very easy to get there with boats leaving every hour.
Did you know that the beaches of Levante, Poniente and Mal Pas are awarded the Blue Flag and the Q for Quality every year? These awards recognize the quality and excellence of its conservation and services. What wonderful beaches!
Needless to say that you can enjoy the beach all year round due to the mild climate of the city even in winter. Aren't the walks with the sunsets and the sunny mornings during the "winter" in Benidorm wonderful?
---
Curious Facts about Coves and Beaches
---
Frequently Asked Questions about Benidorm Beaches – FAQs
How many beaches are there in Benidorm?
Benidorm has exactly 5 beaches: Playa de Levante, Playa de Poniente, Playa Mal Pas, Cala Tio Ximo and Cala de L'Almadrava.
What is the difference between a beach and a cove?
The cove is a beach of smaller dimensions and calmer waters.
How long is the Levante Beach in Benidorm?
Levante Beach is 2084 meters long, 55 meters wide and 125785 square meters.
How long is the Poniente Beach in Benidorm?
Levante Beach is 3100 meters long, 105 meters wide and 146239 square meters.
---
Operation of the Beaches: Reservations, Pitches, Toilets…
What are the rules of the beaches of Benidorm?
What are the opening hours of the beaches of Benidorm?
The beaches are open from 9:00 am to 9:30 pm. In addition, swimming and strolling are allowed from 7:00 am to 8:45 am.
---
Accessible beach points
Accessibility is a priority in Benidorm. It is intended to be a safe destination, with control of use and capacity. All bathers have the right to enjoy the sea, regardless of their condition or disability. There are three accessible beach posts:
Levante post, in Murcia Street.
Puesto de Poniente, Avenida Mont Benidorm.
Poniente Post 2, Elche Park.
Accessible beach posts include the following:
Access ramp and walkway with access to the sea
Adapted changing rooms and toilets
Amphibious chairs for adults and children
Amphibious crutches
Lifeguards and support personnel
Free Wifi
What are the hours of the accessible beach posts?
Accessible beach posts are open year-round. From June 1st to September 30th from 9.30 am to 7.30 pm. The rest of the year from 10.30 am to 2.30 pm.
Are you part of a group or collective?
Call these phone numbers for more info: 966815467, 660106555 or 610168830.
---
View Benidorm Beaches and Webcams
We leave you a list of the webcams installed to watch live the beaches of Benidorm:
---
Beach toilets, showers and footbaths
Are there toilets on the beaches of Benidorm? Yes. Watch out for the map and details below.
Free saltwater footbaths are available at all beaches. There are none in the coves.
There are no showers on Benidorm beaches or in the coves.
There are toilets on the beaches of Benidorm. There are none in the coves.

---
The beaches of Benidorm are waiting for you… Book your accommodation and enjoy this city bathed by the Mediterranean. And remember that you can always enjoy the beaches of Alicante, the whole province, within walking distance of the campsite.
Did you like the post? Share it!