Terra Mitica is an amusement theme park set in the ancient civilizations of the Mediterranean, with areas for each: Greece, Rome, Egypt, Iberia and the Islands. You will find the park in Benidorm (Alicante), the capital of Spanish tourism that millions of people choose for some reason and you shouldn't miss it.
Discover all that is hidden on the shores of the Mediterranean, thousands of years of history converted into numerous moments of fun, excitement and adrenaline. Have you seen the look on your children's faces when you go on an attraction with them and they share those sensations with you? Priceless, aren't they? Listen to their laughter and you'll forget everything else. Fun is not a question of age, but of desire. Do you know what adrenaline is? You don't need to. The important thing to know is that there are so many attractions here that you're going to run out of breath, so take a breath. Do you accept the Titanide challenge, an inverted roller coaster that reaches speeds of 100 kilometres per hour between spectacular vertical and horizontal 360º turns, and dizzying descents from 31 metres high? Terra Mitica is a proposal to enjoy with the family, children will feel like fish in water, because we have attractions designed especially for them, even for the youngest. Terra Mitica is one of the 35 things to do in Benidorm that we recommend.
Terra Mitica Telephone
The official telephone number of Terra Mitica is 965 004 300 as stated on its official website.
PHOTOS OF TERRA MÍTICA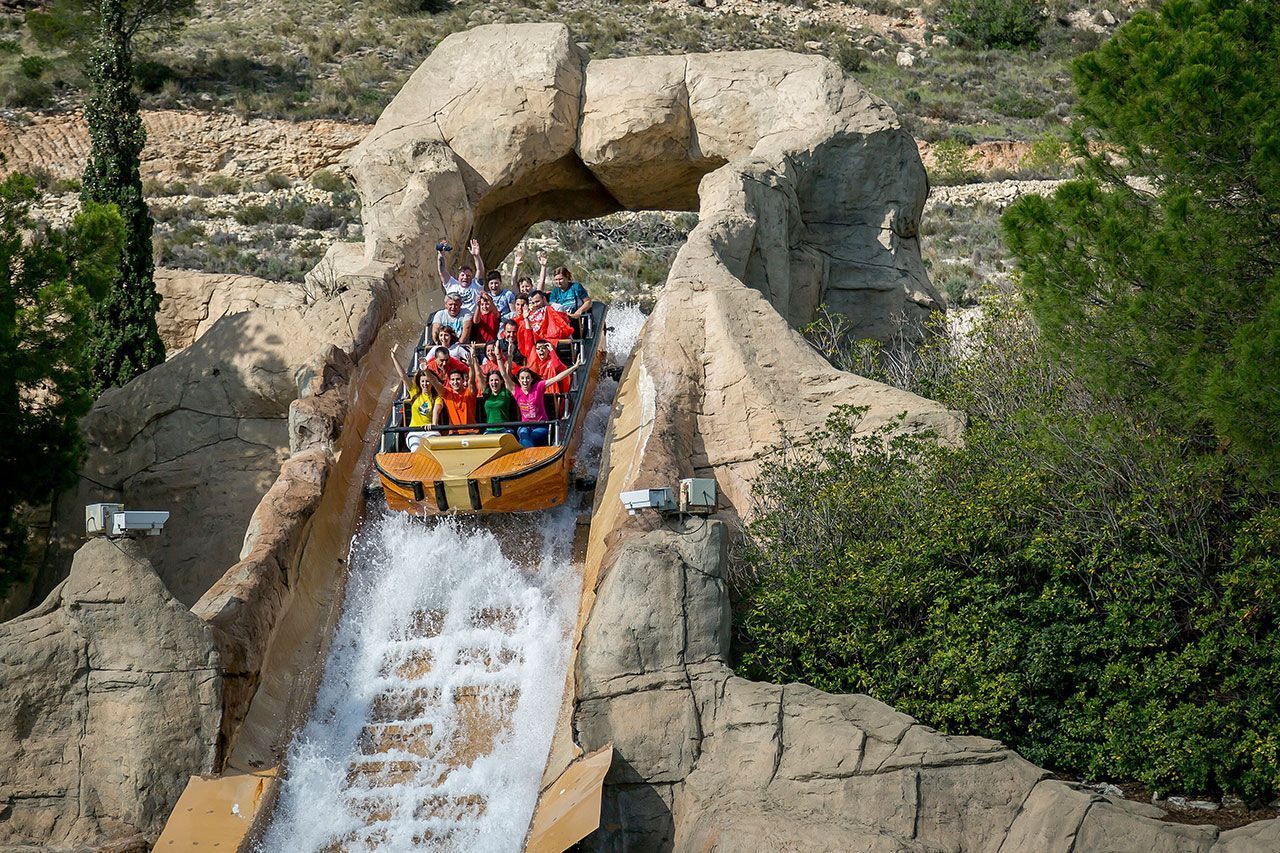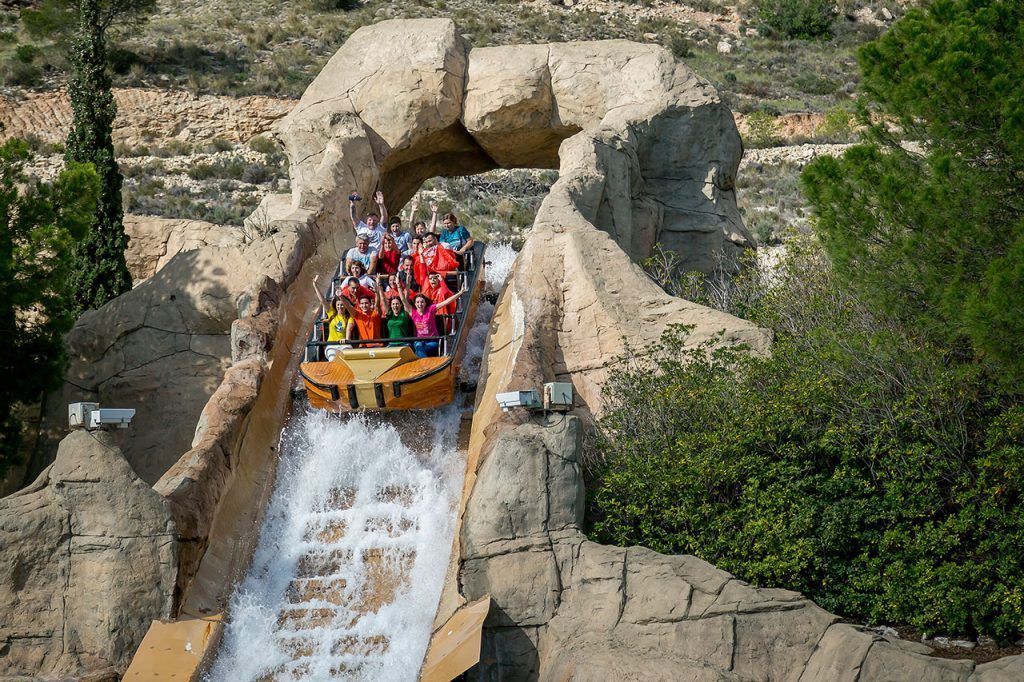 ---
🕜 Terra Mítica Timetable
When does Terra Mitica 2023 open? Terra Mitica opens on June 1, 2023 for the new season. The official schedule can be consulted on the Terra Mitica website.. Although subject to change, the opening hours and schedule for 2020 are as follows:
Blue

: 10.30h to 19.00h.

Yellow

: 10.30 am to 9.30 pm.
---


💶 Offers
You can buy your tickets at the reception of the campsite to spend a day at Terra Mitica or an afternoon. We always have the best price online for Terra Mitica tickets, but if you want more information you can check on their website.
MYTHIC LAND 1 DAY MYTHIC OFFER (T.B): 34 euros Adult, 25 euros Junior.
TERRA MÍTICA AFTERNOON TICKET (+15.30h): 25 euros Adult, 20 euros Junior.
TERRA MÍTICA FAMILIAR 3 (T.B): 85 euros.
TERRA MYTHICA FAMILIAR 4 (T.B): 99 euros.
TERRA MÍTICA SUPER AMIGOS, minimum 5 adults (T.B): 32 euros per adult.
🗺 Map of Terra Mitica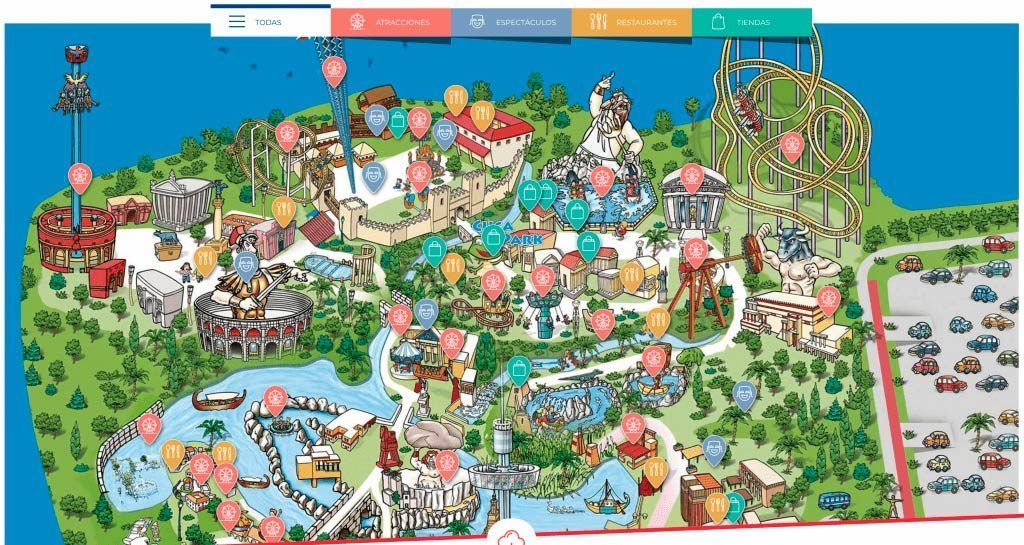 ---
🎢 Attractions in Terra Mitica
CHILDREN
CLEPSIDRA IBERIA
ROTUNDUS ROME. Small Ferris wheel for children to initiate the little ones.
AYQUESUSTUS ROMA. Free fall from 6 meters.
AKUATITI EGYPT. Aquatic circuit in sarcophagus / trunks, with curves and falls.
ALUCINAKIS GREECE. Roller coaster for the little ones in the house.
SYNKOPIN EGYPT. Synkopin is the children's version of the Great Synkope.
JABATO IBERIA. Bumper cars adapted to children for maximum safety and fun.
TENTACULUS IBERIA. Grasshopper type attraction where you will soar on torches.
ANILUS IBERIA. Boat for children.
FAMILIARS
JACUZZIS IBERIA PARK. Large water area with Jacuzzis. It's not all about suffering.
MITHOS THE ISLANDS. Huge carousel with animals where the imagination of the little ones can run wild.
ARGOS RAPIDS THE ISLANDS. Get on a "donut boat" and go down the course trying not to get wet…or do you?
THE RESCUE OF ULYSSES THE ISLANDS. Boat trip through the voyages of Ulysses.
TEMPLE OF KINETOS GRECIA. Cinema room.
PORT OF ALEXANDRIA EGYPT. Mythical port where you can take a boat for a walk through the park.
LABYRINTH OF THE MINOTAUR GREECE. Gun in hand, you will go through a labyrinth aboard a stroller. You will have to shoot the targets to disable them.
NILE RIVER EGYPT. Take a dip in the Nile River with its jets.
TORNADO ROMA. Enjoy the views of Benidorm from 80 meters high in a flying chair.
ARIETES IBERIA PARK. A setting that leaves no one indifferent!
EXCITING
THE WRATH OF AKILES THE ISLANDS. Get into a big boat and suffer heavy rocking and tilting, suffer the wrath of Akiles.
THE FURY OF NEWT GREECE. A big boat full of people, a water circuit with big falls… Do you dare?
THE FLIGHT OF THE PHOENIX ROME. Climbing is easy. 54 meters of height that you will cover in 3 seconds when you fall.
THE ICAROS GREECE. Flying chairs.
NILEFALLS EGYPT. Water trunk ride.
INFERNO ROMA. Roller coaster in which the chairs rotate 360 degrees on their own axis.
TITANIDE GREECE. Inverted roller coaster, the ones with the "dangling feet".
SYNKOPE GREECE. Imagine a pendulum and imagine that its lower part is a big disc that spins on itself as well. That's where you'll be.
---
🎭 Shows
The shows are largely renewed every year, and this year they are as follows:
CLEOPATRA AND MARCO ANTONIO
EGYPT
ISSOS
GREECE
SCHOOL OF HEROES


GREECE

DIONYSIAKAS


GREECE

THE TALES OF PLAKA


GREECE

THE DIARY OF APHRODITE


GREECE

FALLING GROSS


ROME

ÍCARO


ROMA

SNAKE CHARMERS


EGYPT

THE FEAST OF OPET


EGYPT

THE MAGICAL JOURNEY
GREECE
WATER CARRIERS OF KARNAK
EGYPT
WATER CARRIERS OF KARNAK
ROME
DIOGENES
GREECE
PHILIPPIDES, MARATHON RUNNER
GREECE
WATER CARRIERS OF KARNAK
ROME
THE TOURNAMENT
ROME
etc
To see all the shows, their schedules and descriptions we recommend you to visit the official website of Terra Mitica Park. Although we always offer you the best price online at our reception to get your tickets, without queuing at the ticket office.
---
🎃 Halloween at Terra Mitica
For the last few years it has become fashionable to go to the theme park on the night of October 31st to celebrate a terrifying Halloween. Terra Mitica invests a lot in theming and setting for these dates, getting according to customers an experience that you can not miss. Halloween Terra Mitica usually lasts 4 or 5 weekends, ending on the 31st of October.
The attractions are open on Halloween, the park is fully themed, there are scary passages and great special shows. You will have a great time and we must say that year after year they get better and better. There are no ticket prices yet, but on the night of the 31st of October you can find tickets for around 20 euros, which is not much for what is "probably the best Halloween show in the province of Alicante" and one of the best in amusement parks.
---
Iberia Village Events
The Iberia area, besides being a park area with pools, jacuzzis and attractions, has a part where you can celebrate your wedding. Yes, you can get married and/or celebrate your banquet in a square that recreates a Mediterranean village. It is a very nice area of the park and quite requested by many couples getting married in Alicante.
We hope you get your ticket or get married but enjoy Terra Mitica for what it is, a great amusement park.
---
Frequently asked questions about Terra Mitica
What months does Terra Mitica open?
Who manages Terra Mítica?
Terra Mitica is managed by the Santa-Maria Group, owned by Georges Santa-Maria.
How much did it cost to build Terra Mítica?
It is estimated to have cost a minimum of 377 million euros.
---
🚗 HOW TO GET TO TERRA MÍTICA