Today we are going to show you the 7 most sought-after and modern mini caravans. You'll love these new designs and materials, with advanced electronics.. What all camping enthusiasts are looking for. We will talk about mini campers and traditional and teardrop or "egg-shaped" mini motorhomes.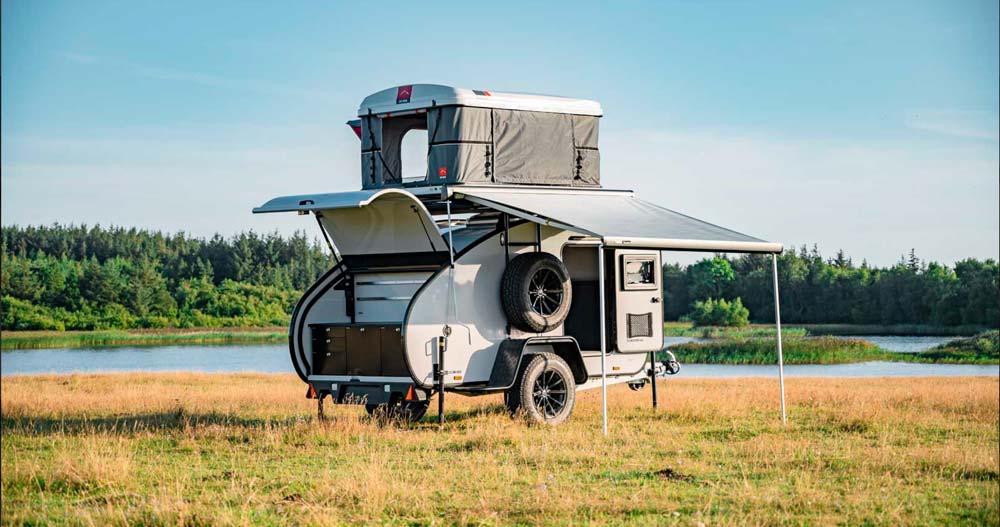 We have looked for models of caravans that can be bought, not conceptual ones. You can find them in importers of mini caravans, in companies that manufacture your mini caravan trailer teardrop as Caravancol or you can buy it second hand, from people who brought them from other countries.
We have also added some models that, if you are interested, you could buy at a European caravanning fair. Why not travel to Düsseldorf and buy your minicaravan or mini camper?
The best mini caravan: TOP 7
There are thousands of models, but we've done a tracing work and we show you 2 fully equipped mini campers, 2 mini caravans with bathroom and finally 3 beautiful micro caravans of less than 750 kg:
7. Mini motorhome Vario 499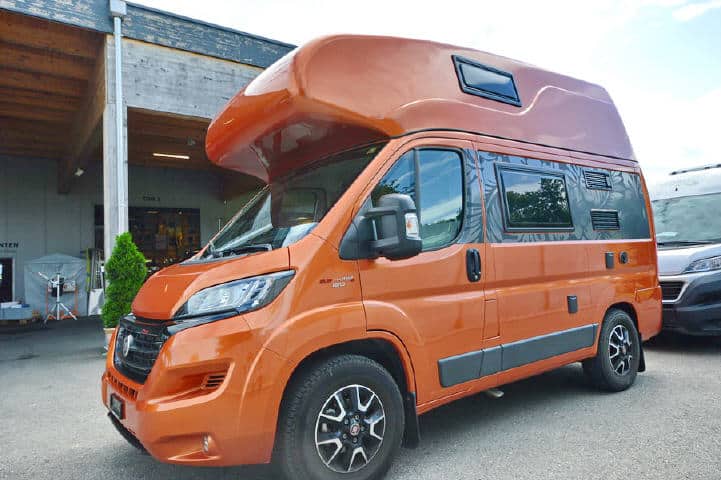 We start with a mini motorhome based on a Citröen or Fiat and with capacity for up to 4 people. In terms of dimensions, the Vario 499 measures 4.97 meters long and 2 meters wide. The interior height is 2.45 meters, which will allow us to move comfortably inside.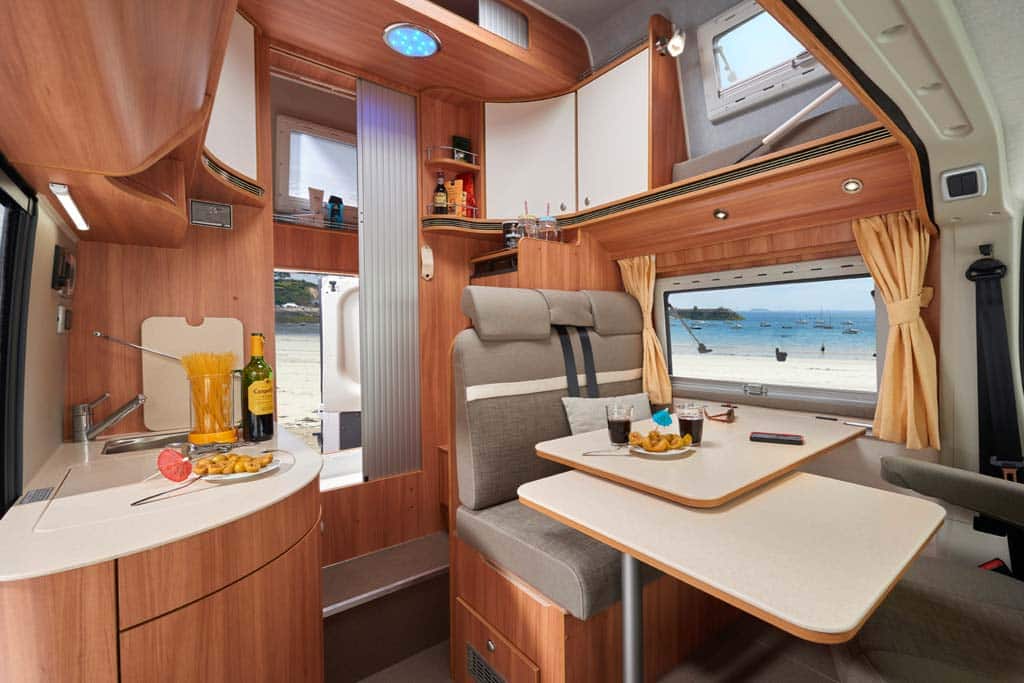 The interior has rosewood cabinets. What is rosewood? A brightly colored Brazilian Guineo-Ecuadorian tree. It is widely used in furniture.
The two seats in the cabin swivel and face the extendable dinette table and the two-person sleeper sofa. In the same space we will find a compact three-burner stove and stainless steel sink.
The bathroom is behind an accordion shutter. Complete bathroom with sink, large mirror, toilet and shower. Quite well equipped.
On the roof there is an area with a bed for two people.
6. Mini motorhome Wingamm Oasi 540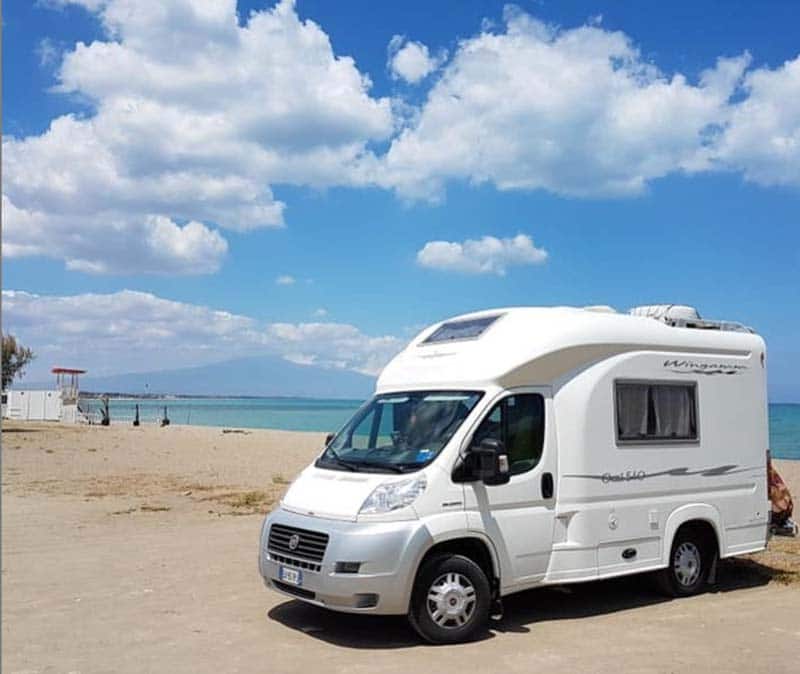 We continue with the second and last mini motorhome on the list. At only 5.5 meters long, two people will be able to explore any landscape in comfort. Introducing the small motorhome Wingamm. The Wingamm Oasi 540 is hail resistant and soundproof.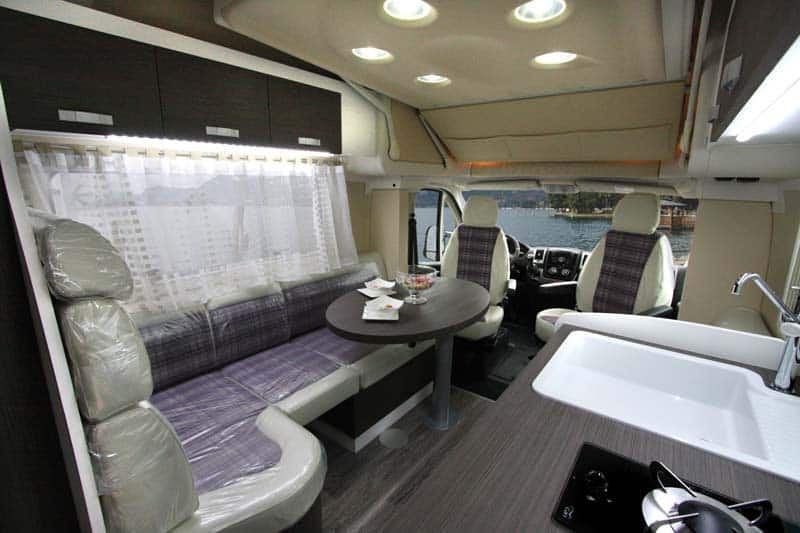 A large sloping skylight brings open air into the cabin. The entrance is on the driver's side or through a rear door on the right side of the motorhome. An angled door conceals the toilet and shower. The kitchen is galley style. With cutting board, two glass-covered hotplates and fridge-freezer. On the opposite side we find the two front chairs that we can turn to face the living room, which has an L-shaped sofa and a table.
The bed appears easily by pulling from the ceiling down manually. It is quite comfortable, with a viscoelastic mattress.
5. Mini Caravan Wingamm Rookie 3.5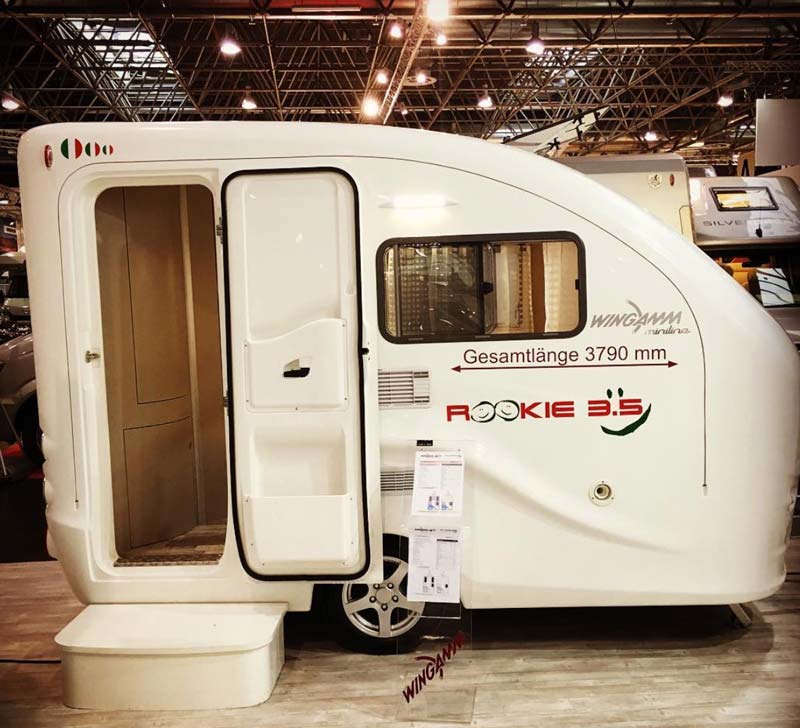 We started with our mini motor homes. We are talking about the Wingamm Rookie 3.5, which is a mini caravan with toilet and rounded body, white, and is 100% waterproof, with polyurethane foam insulation with no metal parts, so it is corrosion-proof.
Opening the side door we find a comfortable and stylish interior. The central kitchen has a sink and a two-burner stove. The refrigerator is 70 liters. The bathroom is equine, with a cassette WC, toilet and shower. The water heater is 12v plug-in to the car if needed.
The dining room transforms into a double bed and has stain-proof, albeit checkered, upholstery.
4. Mini caravans Bambina n126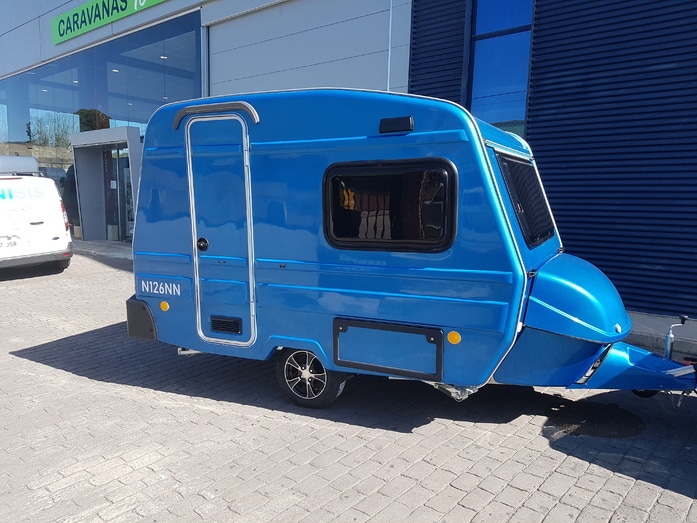 The mini caravan with WC Bambina is the ultra-small version of a caravan, with the spaces of a mobile home. They are 2-seater, and everything is designed for that number of people. It has a sober interior space, with a folding table that converts into a bed, a basic kitchen with two burners and sink, refrigerator and bathroom.
The truth is that it is quite an eye-catching option in different colors, such as orange or blue. They can be obtained at good second-hand prices and are widely searched for on the Internet. You can find different prices for used mini caravans, such as on Milanuncios. As a tip, now that it has become fashionable, arrange a video call with the seller and have him show it to you before you travel, so you can see the mini-caravans in detail.
3. Mini Caravan teardrop Hero Ranger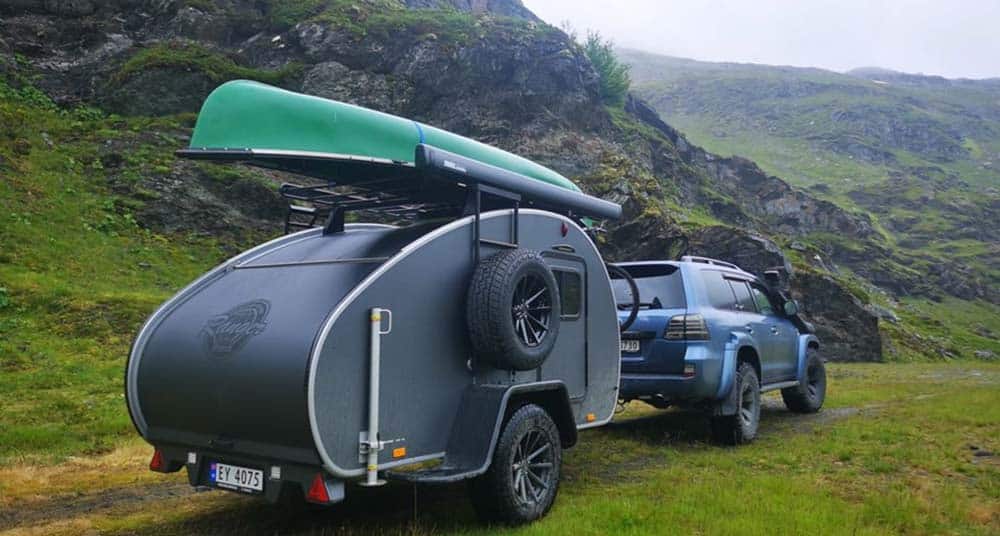 Apparently the Hero Ranger is a fairly simple mini teardrop caravan. In the front part there is a metal trunk-boot for storing objects. But following the roof we will see a black stripe running along it. We are facing the integrated solar panel, in case we want to go somewhere far from civilization or a plug.
On the side we find the access door and the spare wheel. The side awning can be taken as an extra, and opens manually. At the rear we find two stabilizers, for when we find a place to stay. They are two bars that slide down and are fixed, quite simple and efficient.
At the rear thebrake and position lights are integrated into the curved sides, and are not visible at first glance. We found the kitchen at the back, quite sober, with a sink. It does not have a stove, but it is something we can add in a simple way.
Metal platform and roof access ladder are standard. What we can add as an extra is the Sky Tent, a rooftop tent. We can see it in the first image of this post, above.
The interior is quite spacious and we can stand upright on our knees. We can sleep without problem and has a kind of cushions as a sofa to lie down. Behind these cushions are the battery system, differentials and basic systems. The cabinets are metal and quite robust. We also have 220v and USB plugs.
Its price is around 16,600 euros.
2. Caravancol: tailor-made manufacturer of mini-caravans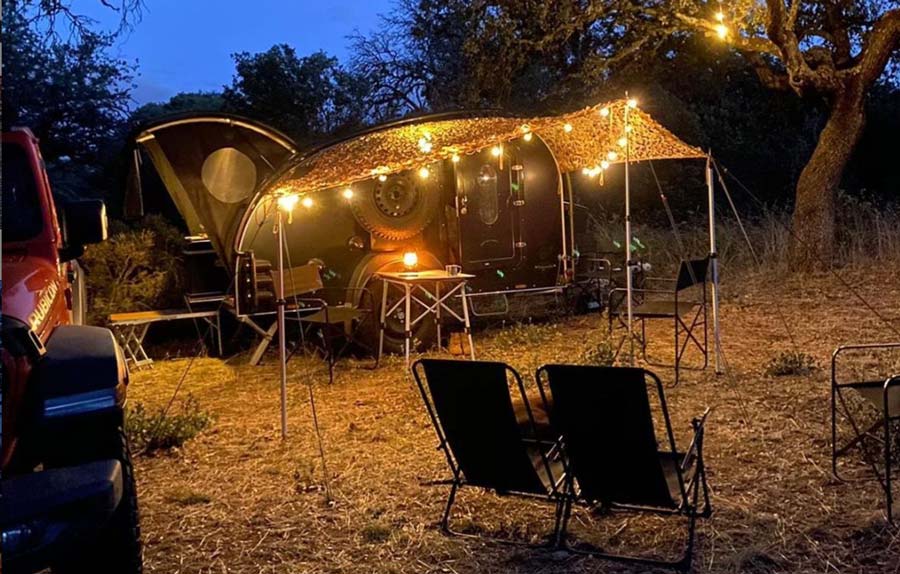 Caravancol is an Asturian company, dedicated to manufacture, sell and rent mini caravans. They manufacture 4 models: Travel, Classic, Cargo and Wild. All jobs can be customized, as it is a company that adapts to customer needs and customizes the work with vinyls and details on demand. These 500kg"snails" are fully equipped, 4 meters long and 2 meters wide.
Mini caravan Caravancol TRAVEL and CLASSIC: It is halfway between a tent car and a caravan.
Mini caravan Caravancol CARGO: this model is designed for transport.
Caravancol WILD mini caravan: closer to Off-Road 4×4.
Prices start at around 8000 thousand euros, plus whatever we want to add in customization. You can ask for information on sale and rental prices. Take a look at the photos of Caravancol on the caravancolmadrid.com website. For contact, there is a delegation in Madrid and another in Asturias.
CARAVANCOL PROMOTIONAL VIDEO
1. Caretta Off Road 1500 Mini Caravan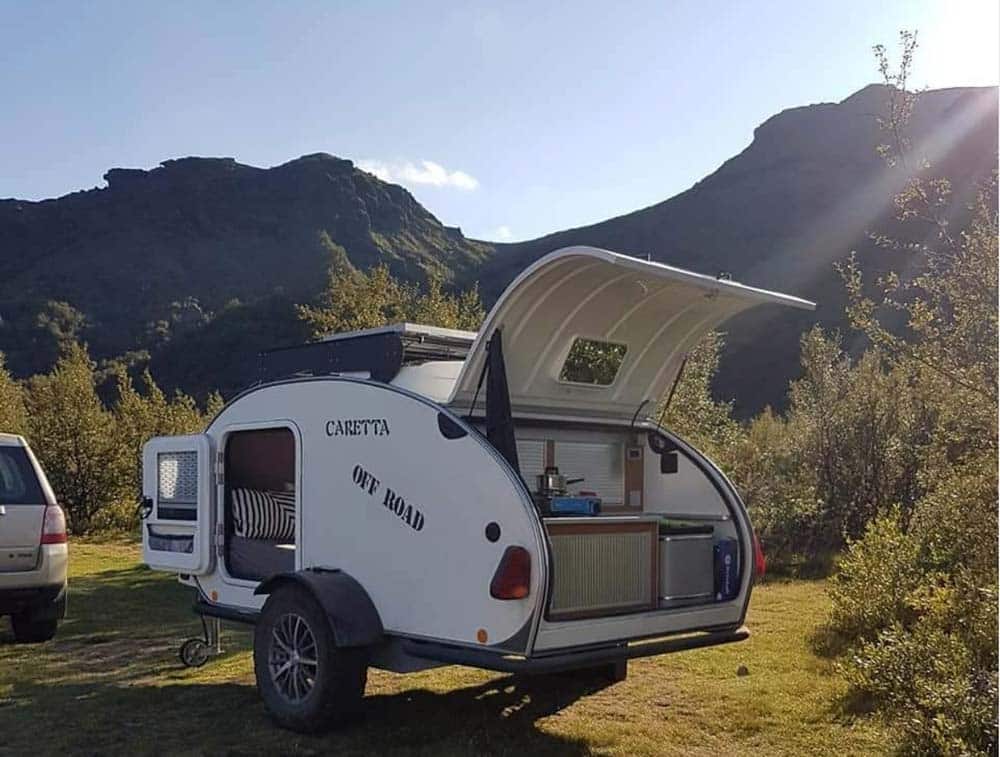 The Caretta 1500 Off Road mini caravan is another teardrop and is perfect for free camping and expeditions, either in desert or forests without civilization. 4×4 wheels,side protection bars for the most difficult places. Access to the interior is through the side door, which has a blackout and mosquito net. In the interior we have a bed of 150x200cm. In the upper part there is a skylight with blackout and mosquito net, perfect for ventilation. We have two closets for clothes and objects, with shutter opening. Underneath the cabinets we have a shelf with a network and two plugs, one 12V and USB and the other 220v.
The extendable and "hidden" kitchen
At the rear of the Caretta, accessed from the outside, is the kitchen, with a removable and extendable bar, with a storage tray underneath it. It has a sink and a 1-burner gas stove. The camping bottle is located under the sink, as is the clean water tank. In addition you will find the folding table on the side, and on the front two cabinets and the switches for the water pump, with indicators of the amount of water remaining. We also have a 220v socket, a mirror in the trunk door and a removable 12V refrigerator.
On the side we will find the shower head activating during use the water pump, disconnecting immediately after. In the front trunk we will find the camping chairs, the cable to connect to 220V, the additional battery and the general and battery charger differentials.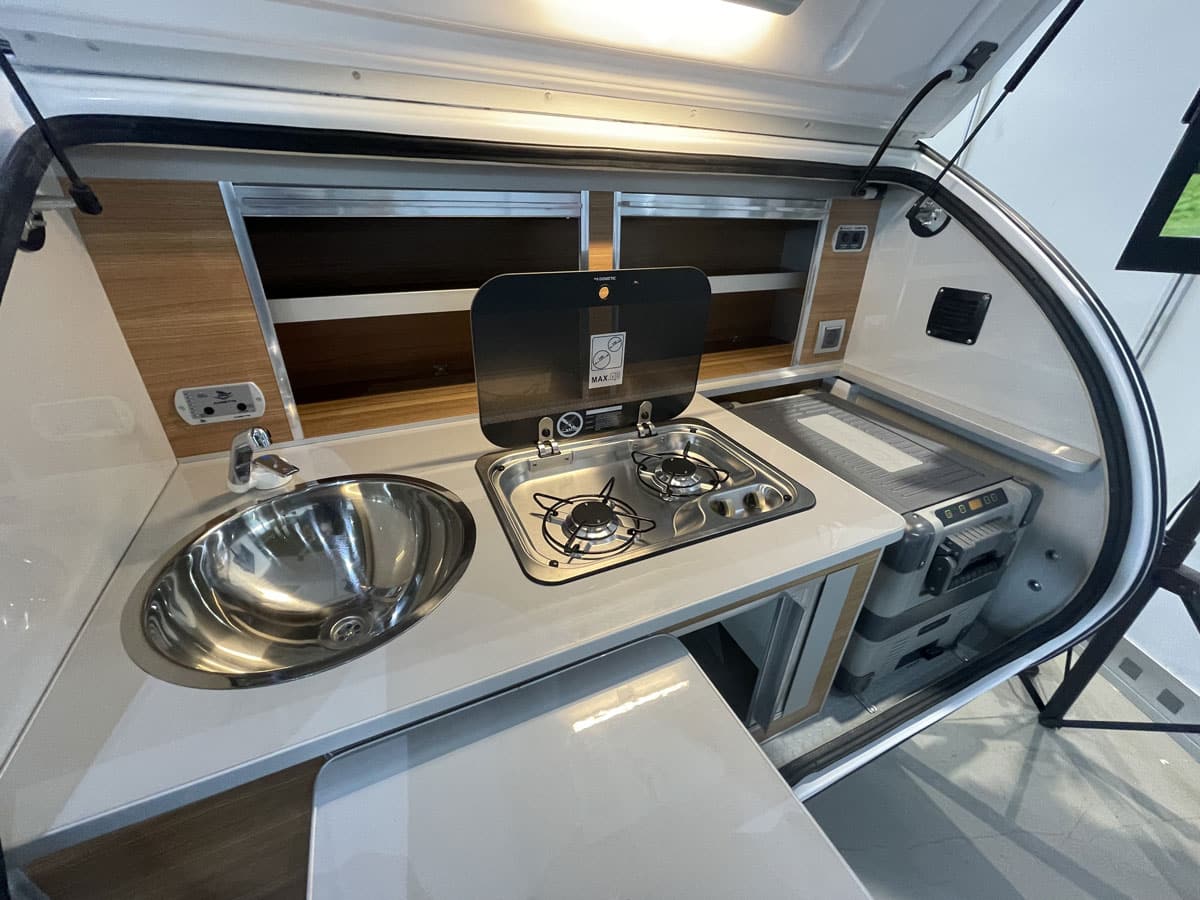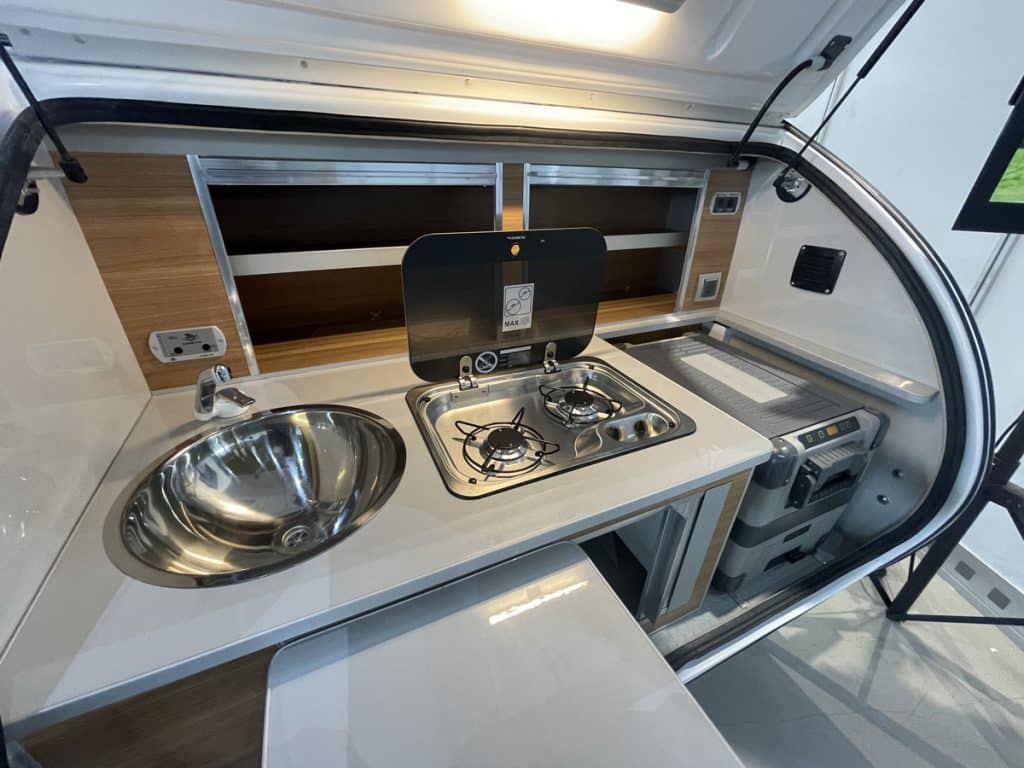 Alternative models of Caretta mini caravans
The Caretta 1500 Family version has road wheels and a low chassis and has a roof tent, to double the capacity and go as a family. Let's say for basic camping in a campsite. A bed of 150 x 203 cm. and fiberglass insulation. This model is over 445 kg and can be carried by an average passenger car, unlike the Off-Road model which is over 700 kg and requires a more powerful towing vehicle.
In the photo above you can see a roof tent, attachable to any car, 4×4, van or minicaravan. They are easy to open and close, very light weight, with aluminum structure and mattress for 2 to 5 persons depending on the model. You will be able to climb with its telescopic ladder and they are 100 waterproof. This model is made by Foxcamper.
The basic cargo model (multivan) is an open space, and inside you have a space for whatever you need. It is a multi-purpose caravan. Bring your surfboards, sleeping bags… It is a multi-purpose trailer. It is the ideal model to camperize if you are very handy.
For prices consult www.minicaravanas.com, official supplier in Spain of the Turkish brand Caretta. Do not hesitate to contact and ask for more information to Minicaravanas, is a company that will advise you in a professional manner and have stock of fast delivery. Many people like you and from different continents enjoy their Caretta.
Video review Caretta 1500 by Minicaravanas.com
Advantages of mini caravans
Surely you have thought about camperizing a vehicle, but you do not want to change the daily use of the family's main vehicle. The solution is a mini caravan trailer. We present the standard and Off-Road versions for adventurers.
These trailers are very popular in Australia, but are less well known here. The concept of mini caravans comes from the USA, from the 1930s.
Being trailers of less than 750 kg we have a number of advantages:
It does not need to pass ITV.
You do not need a special driving license.
No registration is required. After leaving the store it's all done.
No special additional insurance is required.
You don't have to adapt car mirrors or anything special.
What license do I need to drive my mini caravan trailer?
Any mini caravan can be driven with a basic B driving license.
Differences between a mini motorhome and a mini caravan
The motorhome is taller and allows you to stand upright inside, like in a house, unlike teardrop caravans. They have toilets.
Intermediate mini caravans, such as Bambina or Wingamm, have interior space and WC.
The caravan, if it is a very small teardrop type, comes without WC. In addition, it is designed to be able to kneel inside but not to stand.
Mini Caravan: Price
We have extracted this indicative information from official manufacturer and second-hand websites.
| | | |
| --- | --- | --- |
| Model / Make | Price | State |
| CARETTA 1500 EXPERIENCE | 9.950 € | Professional sales. New. |
| CARETTA 1500 EXPERIENCE SMART | 10.990 € | Professional sales. New. |
| CARETTA 1500 FAMILY | 11.550 € | Professional sales. New. |
| CARETTA OFF-ROAD | 14.840 € | Professional sales. New. |
| CARAVANCOL CLASSIC, KM 0 | 8.500 € | Professional sales. Second hand / KM 0. |
| MINI CARAVANS 2021 NIEWDOW BAMBINA | 9.700 € | Professional sales. New. |
| NIEWDOW RN 126N BAMBINA | 11.490 € | Second hand caravan price |
| WINGAMM ROOKIE 2011 | 11.600 € | Second hand caravan price |
We hope you liked our post about mini caravans and that after buying one you will visit us in Benidorm.