This small article is dedicated to wine lovers and wine tasting, come on, to many customers of our campsite in Benidorm. It doesn't matter if you are an expert or if you want to surprise someone special with an original gift. We are going to explain you where to do your wine tasting in Alicante. In case you don't know, the wineries of Alicante have worked tirelessly so that the Denomination of Origin (D.O.) and its incredible wines have been recognized internationally.

The wineries of Alicante often make guided tours to get to know their wines. The visit to the winery normally includes a selection of wines and the possibility of buying them at an unbeatable price in the winery shop.
6. BODEGAS FRANCISCO GÓMEZ | Villena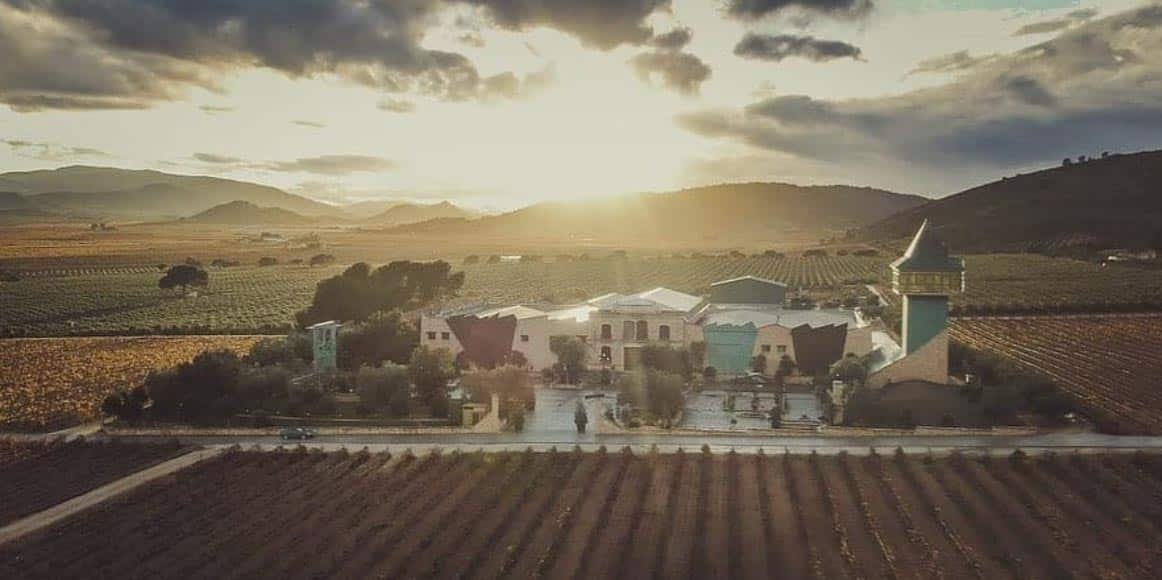 A classic of the Alicante Wine Route. The wineries of Villena are the epicentre of wine in the province, and at Bodegas Francisco Gómez you can visit the winery and the estate.
Wine tasting at Bodegas FG
We can do several wine tastings at the winery:
Enogastronomic route: complete tour, wine and oil tasting, tasting of Iberian sausages and cocktail lunch with FG wine pairing. It lasts 2.5 hours, 40 euros per person and minimum groups of 15 people.
Oenological route: guided tour, wine and oil tasting and Iberian ham tasting. It lasts 1.5 hours and costs 15 euros per person.
Trivium Route: guided tour to taste the most exclusive wines and oils. 70 euros per person, as you will be able to taste the Fondillón Quo Vadis 1972.
Telephone: 965 97 95 55
5. BOCOPA WINERIES | Villena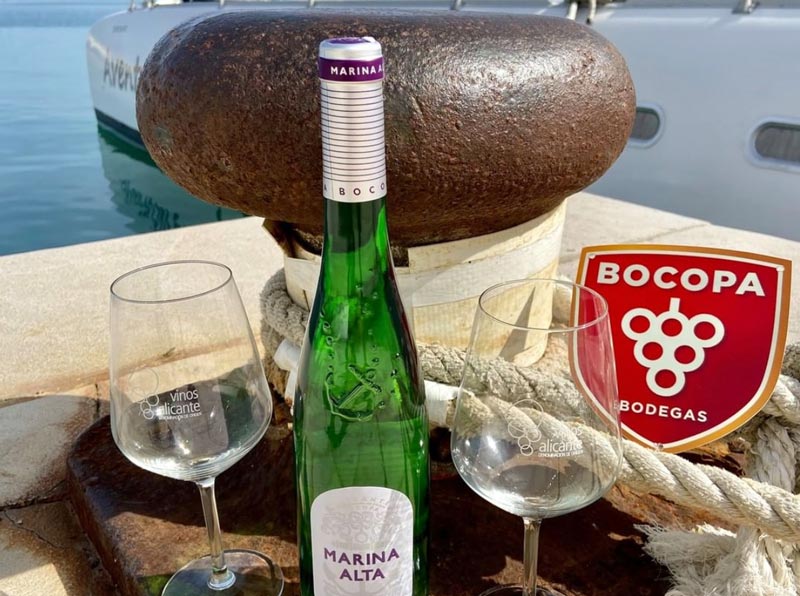 The wine tourism section of the well-known Bodegas Bocopa, in Petrer. You may have heard about Bocopa wineries on the radio as well. You can make a visit every day, at 10am, 11am, 12pm or 5pm by reservation.
Tasting at Bodegas Bocopa
Wine tasting: 5 euros for 2 wines or 7 euros for 4 wines. Loin and cheese plate for 2.5 euros per person.
Gastronomic Visit: 15 euros and includes lunch in a nearby restaurant with a voucher.
4. SIERRA SALINAS WINE CELLARS | Villena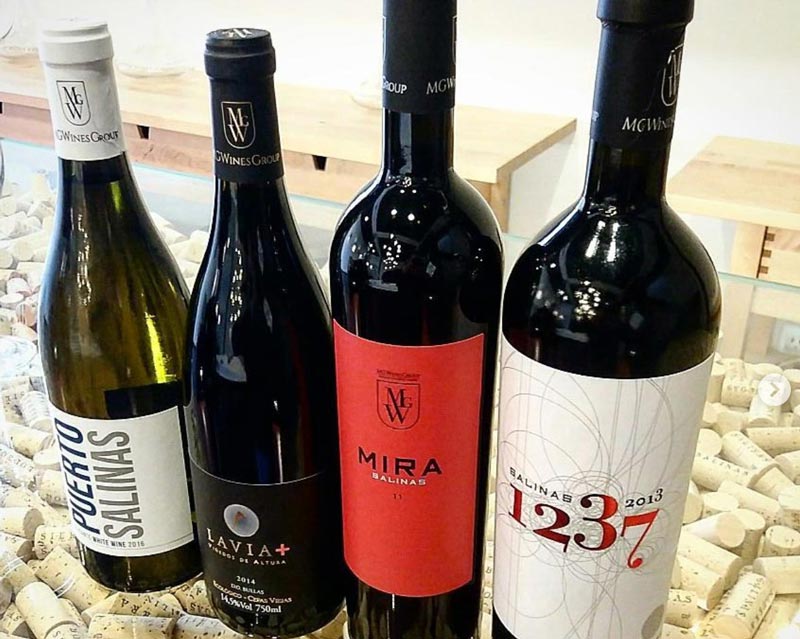 Here you will find the wines of the Miñano Gómez family, hence MGWines. The wine Sierra Salinas 1237 (2013) stands out, with 92 Parker Points.
The Sierra Salinas is a blend of Monastrell, Garnacha tintorera and Cabernet Sauvignon. The palate is full, full-bodied, dense and powerful with a remarkably warm finish.
Wine tasting packs
As for guided tours you have several packs:
Pack "A Privileged Place". It lasts 1h and you taste 2 wines plus a guided tour of the facilities. 10 euros per person.
Pack "Singular MGWines". Between 1.5h and 2h, tasting of 2 wines with a walk through the vineyards and facilities and 15 euros per person.
Pack "Sierra Salinas". The visit lasts between 3 and 4 hours, walking trails and the winery with explanations of winemaking. You taste 2 wines and it costs 30 euros per person.
The visits for minors are free of charge. You can also find Eco wines and Vegan wines, as well as oils.
3. WINERIES VOLVER | Pinoso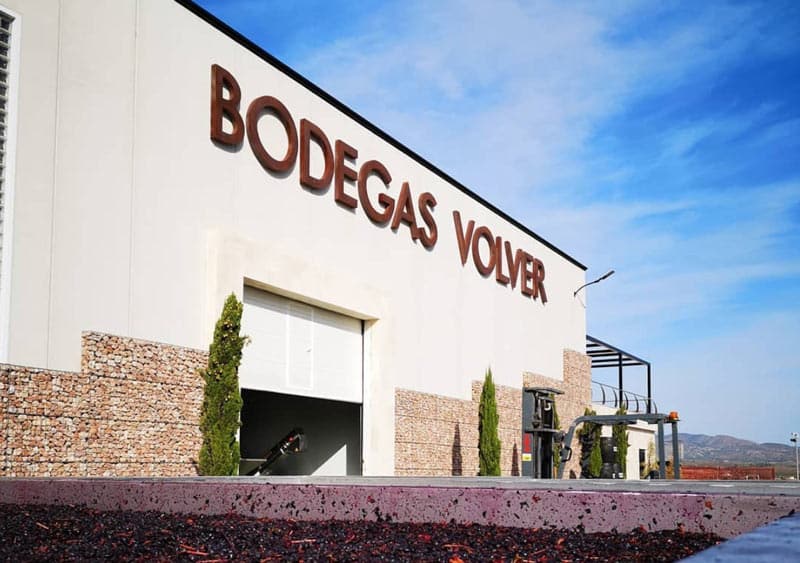 Here comes one of our favourites, the Tarima Hill 2015, a Monastrell variety and one of the best wines from Alicante. You will find incredible D.O. Alicante wines. Try the Alicante Bouschet by Tarima 2017 and be surprised.
Taste the Triga, Cabernet Sauvignon and Monastrell aged for 20 months in French oak barrels. A perfect pairing for rice dishes with rabbit and snails or grilled or baked meats.
You will find wines such as Monastrell, Cabernet Sauvignon, Chardonnay and other grapes typical of Alicante wineries.
Wineries Wine Tasting Volver
Visit the winery from Tuesday to Friday from 10am to 6pm, or Saturday mornings from 9am to 2pm. Always by appointment at enoturismo@bodegasvolver.com | 966 185 624 (ext. 2) | 673 46 82 83
Guided Tours: 10 euros per person, visit the vineyard and explanation, plus tasting of 3 wines with appetizers from the area.
Tasting Special: 15 euros per person, with a minimum of 14 people. At 11.00h and lasts 2.5h. Visit, explanation of the grape harvest up to bottling, visit to vineyards, tanks… An expert oenologist will preside over the tasting of the best wines.
2. WINERY RIKO XALÓ | Jalón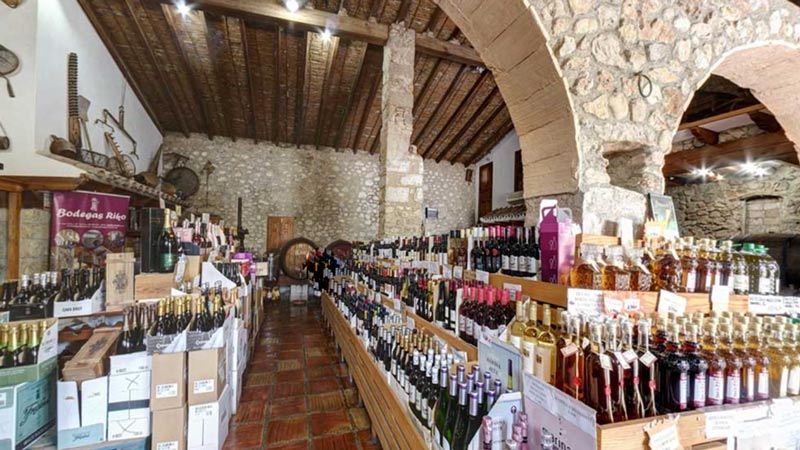 We arrive at the paradise of the Muscatel grape. Mistela de Jalón is well known and a staple in all Alicante homes. That's why we recommend to go and try it.
Mistelas and wine tasting
We recommend the visit called "Wine: from the field to the table". Guided tour, with pairing of local products and tasting of the best wines of the winery. 15 euros per person.
Contact us to make a reservation: Phone: 966480294 or Email: visitas@bodegasrikoxalo.com`+
1. WINERY ENRIQUE MENDOZA | Alfas del Pi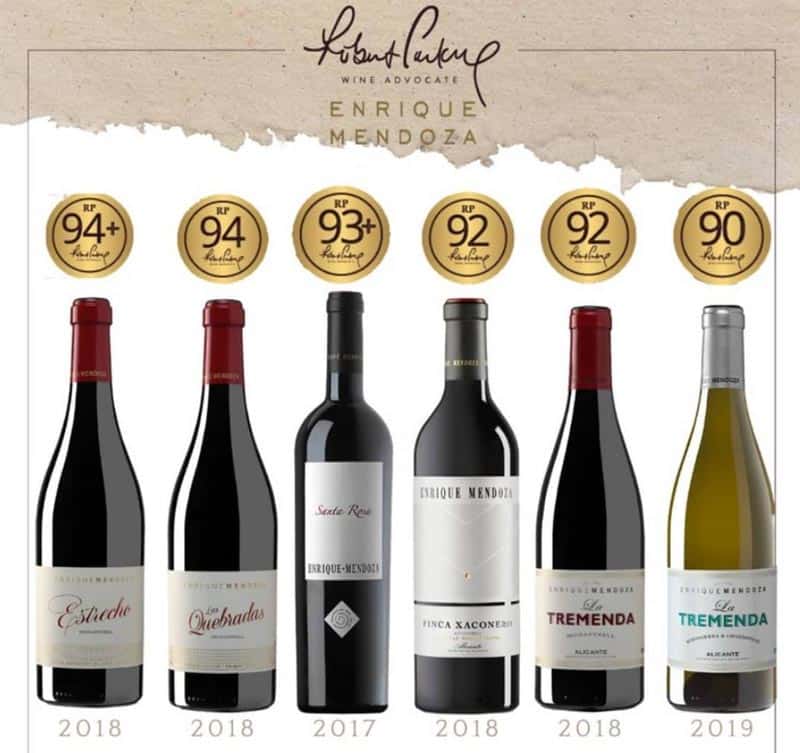 Although the vineyards are in Villena, the winery is located a short distance from our campsite, near Benidorm.
One of the jewels in the crown of Bodegas Enrique Mendoza wines is the Santa Rosa 2017. Rated 94 in the Peñin Wine Guide and 93+ in the Parker Guide. Also noteworthy is the Monastrell Estrecho 2017 with 95 points in the Parker Guide, but with a production of only 5500 bottles. Plus, get a bottle of Las Quebradas 2017 with 95+ points.
The Santa Rosa 2017 has spent 16 months in oak barrels and is a blend of Monastrell, Cabernet Sauvignon, Merlot and Shiraz. It is very Mediterranean and mineral with herbal and graphite notes, with much less oak than in the past, becoming spicy with an herbal touch.
Wine Tasting in Bodegas Enrique Mendoza (Alfaz del Pi)
We recommend the Gold guided tour, which lasts 2 hours. A guided tour of the vineyard, the bottling plant and the underground cellar.
Enjoy a tasting of 7 wines, paired with extra virgin olive oil, goat cheese toast, cold meats and Valor chocolates. A complete experience. 22 euros per person and by appointment in the wine tour booking section of the official website. You can also make gift vouchers for wine tastings or visits to the winery in Alicante (Alfaz del Pi).
In conclusion, you can visit any winery while enjoying a few days in our campsite. But for proximity, we recommend Enrique Mendoza, as it is only a few minutes away. Any of these wineries will give you a perfect wine tasting on your holidays in Alicante.