Super Aqualandia Benidorm is the first water park built in our country. Since 1985 it has been one of the most important water parks, due to its size and the number of attractions and services. Camping Armanello is a campsite with a water park nearby, 5 minutes away, for the whole family.
---
What is Aqualandia Benidorm like?
From Camping Armanello (Benidorm) and, as a campsite with a water park nearby, we present the details to go to Super Aqualandia (one of the 35 things to do in Benidorm). This article has been written with our experience of more than 25 years.
Aqualandia has received numerous international awards as one of the best aqua parks and has grown year after year, adding new attractions and modernising its facilities. Being a campsite with a water park at such a short distance, you can walk there in just 10 minutes or drive there in less than 5 minutes. Aqualandia assures you an unbeatable day. We recommend its capsule slide, its star attraction: Verti-go Aqualandia Benidorm.
🏄 Aqualandia Benidorm attractions
Black-Hole: Closed tubes to be launched individually or in pairs with mats. Impressive slides!
Geyser
Olvier's show
Wave Pool: Every 30 minutes the pool generates artificial waves.
Amazon: Circuit with currents simulating a river. Very useful for getting around.
Splash: Tracks to throw yourself with foam rubber mats. Racing is assured.
Big-Bang: Tubes of three heights, with falls not suitable for cardiac. Choose the colour of your slide according to the height and inclination you want.
Kamikaze: Two white slides to beat speed records.
Zig-Zag: Slides for individual sliding down the walls.
Mini Zig-Zag: set of slides for children.
Niagara: Waterfall and cave
Large Jacuzzi

Lagoon: area with rings, zip lines, 3-metre jumps, water games for the little ones, water jets, etc.

Adventureland: children's pools to spend some time with the little ones.

Fast: try to be the last of your friends to fall with your donut.
Soft Tracks: 6 lane tracks. No mat, time for the races.
Vertigo Aqualandia Don't be fooled by its Verti-Go pun, it won't be vertigo you'll feel as you fall down Europe's longest capsule slide.
Many square meters of green areas with picnic areas and plenty of shade. So you can take your food and rest.
CYCLON: TOBOGGAN with EMBUDDMENT
Cyclon is Aqualandia's new attraction, inaugurated in 2019, which consists of a funnel slide of about 36 meters high and 200m long. People will be launched on 4-seater mattresses propelled by a water jet through a tube until they reach a wide funnel-shaped area to descend through a final tube after several swings.
In the absence of an official video of Aqualandia, we leave you a video of an attraction like Cyclon of Super Aqualandia Benidorm which is located in the Philippines.
Video of Cyclon Aqualandia
VERTIGO AQUALANDIA: A must-see attraction
It's a capsule slide. Climb the platform and enter a capsule so that after a countdown the trap door opens and you fall at 100km/h down a 28 meter drop. Not suitable for cardiacs or people who suffer from Vertigo!
️🗺️

Plane
Map of Aqualandia – Camping with water park nearby, only 5 min. away!
---
📷Pictures of Aqualandia Benidorm and its incredible slides
---
Big Bang
Thrills are guaranteed on three slides at three different heights.

Cyclon
Funnel slide on which you will slide with 4-person mats. Another of Aqualandia's radical attractions.

Black Hole
The Black Hole is the black hole, a double mat attraction where you slide down a black tube in the dark.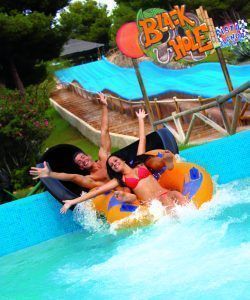 Verti Go
One of the so-called radical attractions, with strong emotions. After getting into a capsule 30 meters above the ground, the trap door will open and you will "almost" fall into the void.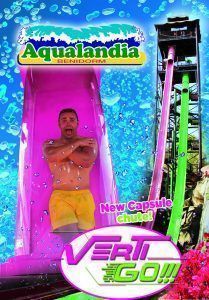 Pictures of Aqualandia Spain, near camping Armanello. We are a campsite with a water park so close that you can see it from our facilities!
At Aqualandia Benidorm, with its 150,000 metres of exciting water attractions, you'll find a picnic area, cash machine, lockers, sun lounger hire, floats, hamburger bar, ice cream, etc. All in the foothills of Sierra Helada.
The water used in Aqualandia is totally recycled, demonstrating a great commitment to the environment.
---
What is the price of Aqualandia?
Usually the price of Aqualandia Benidorm is around 38 euros for adults and 29 euros for juniors (4 to 12 years) and seniors (+65 years). At the campsite we have discounts so that this price is reduced to 34 and 26 euros respectively. This data is for the 2019 season.
---
Where can I get a discount on the entrance to Aqualandia Benidorm?
Unfortunately, the tickets that you can get in other establishments and through promotions in the park have to be exchanged at the ticket office. These discounts can be found at gas stations and stores in different regions and are an action of the park itself.
---
🎁 And what advantage do I get for buying the ticket at the campsite?
You will be able to go directly to the Aqualandia entrance turnstiles, without queuing at the ticket offices. In addition to the price improvement, obviously. From the purchase of the ticket to the wave pools practically.
---
📆 Does the park ticket expire?
No. You can use it any day, as there is no use-by date printed on it. In addition to being in a campsite with a nearby theme park, your tickets do not expire! It's all advantages.
---
🔍 Where to buy tickets?
Of course, at the campsite you have discounts. There are family packs for 2 adults and 2 juniors (4 to 12 years old), for example, at 112 euros: "Aqualandia Family 4" pack. Also tickets for families of 3 or for groups of friends. Prices do not usually vary, but we recommend that you check our section on how to BUY TICKETS. Seniors (+65 years) usually have the same price as a Junior.
---
What to take to Aqualandia?
The answer is food and swimwear! Surely logic told you that you couldn't bring food into Aqualandia Benidorm, but you can bring your cooler with food and drink from outside. Of course, no glass containers. Consult the Aqualandia telephone number if you have any doubts about any food.
---
🛤 How to get to Aqualandia from…?
From the campsite you have three routes. We mark the most comfortable way to go by car from the campsite to the water park.