Enjoy a new life with luxury motorhomes
Luxury motorhomes have become the best option for those who want to enjoy the freedom of traveling the world with no strings attached. A vehicle that is a real home where nothing is missing, and with which you can also access our facilities.
Characteristics of luxury motorhomes
Connoisseurs say that a luxury motorhome can be better than your own home, since it has everything you need to enjoy your vacation without missing anything you would have at home.
Fully equipped kitchens
Forget the mini kitchens you're used to seeing in other vacation vehicles. In a luxury motorhome, the kitchen area is one of the most important, and has been cared for down to the smallest detail.
It has ample space for washing and drying dishes, but also countertops on which to work, as well as cabinets to store everything you need. And the best thing is that there is so much space that even two people can be working at the same time in the kitchen area.
In addition, they have state-of-the-art appliances, with which you will be able to prepare your favorite recipes with maximum comfort.
Full bathroom
Using the bathroom in a caravan is not always easy, especially when traveling as a family. The design of luxury motorhomes has taken into account that these vehicles are used by several people at the same time, and has sought solutions.
The bathroom space is enlarged, and the toilet and shower areas are separated. Thus, one of the family members can be under the water jet and the rest can use the toilet in total comfort and privacy.
In addition, the space dedicated to the shower is somewhat larger, facilitating mobility, and making even during a motorhome vacation we can enjoy the moment of being in the shower.
Luxury finishes
The use of high quality materials, together with a design that seeks the maximum use of space and that has been taken care of down to the last detail, results in a luxury motorhome interior that is as practical as it is aesthetic.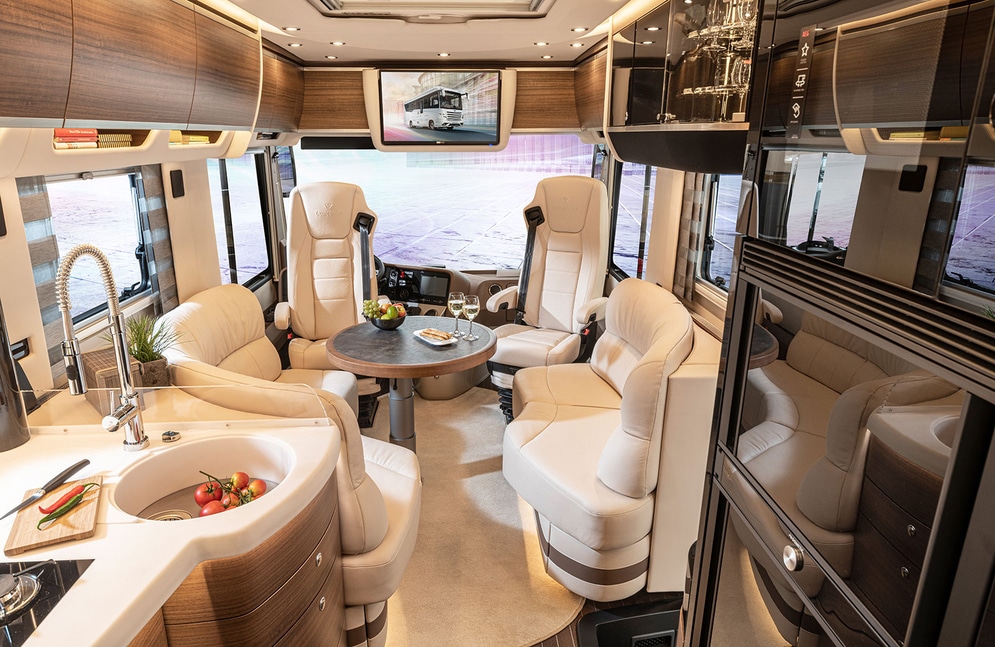 In it we will find everything we need to enjoy the getaway we are doing and, in addition, it gives us an extra sense of wellbeing by being in a nice and pleasant space.
Rear view camera for reversing vision
This may not be of much interest to passengers, but it makes the driver's job much easier. Because driving a vehicle as large as a luxury motorhome is not easy, let alone in reverse.
The most advanced models already have a rear camera system, which provides a much clearer view of the surroundings, making maneuvering easier and safer, thus preventing the vehicle from being damaged or causing damage to others.
Advantages of traveling with a luxury motorhome
More places are available
These mobile homes have more interior space, so they can accommodate more guests. The larger ones can accommodate up to seven people, and we can assure you that all of them will be comfortable. The smaller models guarantee a comfortable stay for about four people.
Vehicle customization
If you are going to invest in a luxury vehicle, it should suit your needs as much as possible. The nice thing about these motorhomes is that, if you buy them new, there is always some room for customization.
You can decide whether the interior will have more or fewer electronic systems, but also aesthetic issues such as the color of countertops or furniture. You can even customize the curtains and awning.
Increased comfort
The dimensions of the vehicle, the quality of the materials and finishes and the presence of extra elements guarantee greater comfort for all occupants.
Despite being in a small place, each person has his or her own space, and can rest quietly or watch television without disturbing others.
More security and peace of mind
Both in the driving area and in the passenger compartment, everything has been designed to ensure that the trip is as safe as possible.
In addition, with a motorhome you will never be in a hurry to get to your destination to check into your accommodation. This will make your driving more relaxed and, by reducing stress, you reduce the risk of an accident.
Taking caravanning to a new level
If you like caravans, that's not incompatible with liking luxury. These vehicles we are talking about, allow you to combine these two facets of your personality.
You can travel around the world without any rush, enjoying each destination to the fullest, but doing so with the confidence of staying every day in a space that is yours and that offers you all the comforts you need. A luxury motorcoach really makes you feel at home, wherever you are.
Saving money
Imagine how much it would cost you to stay in a hotel or an apartment that would provide you with the same comforts that your motorhome provides and that would be close to all those destinations you would like to visit.
Undoubtedly, the cost of traveling in what we might call the traditional style can be much more expensive than traveling in your own motorhome. In addition, with it you have the advantage of planning the routes completely at your own pace, without the pressure of having to be in a certain place on a certain day and at a certain time.
Top 11 European Luxury Motorhomes Brands
Burstner
Dethleffs Globetrotter
Laïka
Le Voyageur
Niesmann + Bischoff
Carthago
Notin
Concorde
Monaco Coach
Vario
Frankia
---
Life is short and is meant to be enjoyed to the fullest. I'm sure there are plenty of places you want to see, so why not start now? With luxury motorhomes any destination is within your reach. If your budget is more limited you should see our post about mini caravans. And remember, if you want to make a stop in Benidorm to enjoy all that this beautiful city has to offer, we are at your disposal with pitches for motorhomes 365 days a year.