This article is for those who have not yet discovered the world of resort camping. Outdoor family vacations with premium services and facilities. Welcome to your next vacation!

🥇What is a resort?
Let's start by explaining what a resort is. The word resort is not included as such in the dictionary of the RAE (Royal Academy of the Spanish Language). Some definitions of resort refer to "lodging that offers additional services in addition to the normal average of establishments of the same type".
Therefore, we can say that the resort in the world of camping is the one that that offers any additional services or facilities that are out of the ordinaryThe hotel offers a wide range of services that add value or a combination of them, such as wellness and spa, entertainment with mini club, themed swimming pools, nursery, private beach, exclusive services or extra comfort on the plot, for example. Although always associated with the holiday "resort hotel", camping resorts do exist and, why not say it, they have nothing to envy to a hotel.
💍 Camping resort is luxury: right?
The word luxury is applied to objects, services or facilities that exceed what is necessary and involve excessive expenditure of time or money. Also as a display of wealth, from an object of great value to "not having to do anything". It is a very subjective term.
If we only go by this, any form of vacation could be considered a luxury, although after working so hard it is a necessary commodity. To put it simply, we could say that a vacation in a camping resort is a vacation of a certain luxury, as it offers something beyond a standard stay, with facilities that offer a plus, animation with large teams of entertainers and high quality facilities.
🏡 Is a resort campground only one that has bungalows?
The bungalow is a type of accommodation, as is the plot. Normally, in Mediterranean resorts, we will find the bungalow themed or set in the Caribbean, Polynesia, Africa or other exotic environments that suggest paradisiacal and distant destinations to get us out of the routine. Bungalows are also often referred to as Villas.
As for the plots, they are usually larger plots, with additional services, sea views, near the beach or with a private pool area. This type of establishment can be visited with a motorhome, caravan, camper or bungalow rental.
In addition, we will clarify what a Bungalow Park is. A bungalow park is a campground that has only bungalow, cabin or mobile-home type accommodations. It simply mentions the specialty, which does not entitle it to additional services, Polynesian or Caribbean ambiance, Spa or exclusive benefits. It is possible to be a Bungalow Park and not be a resort, although they usually go hand in hand.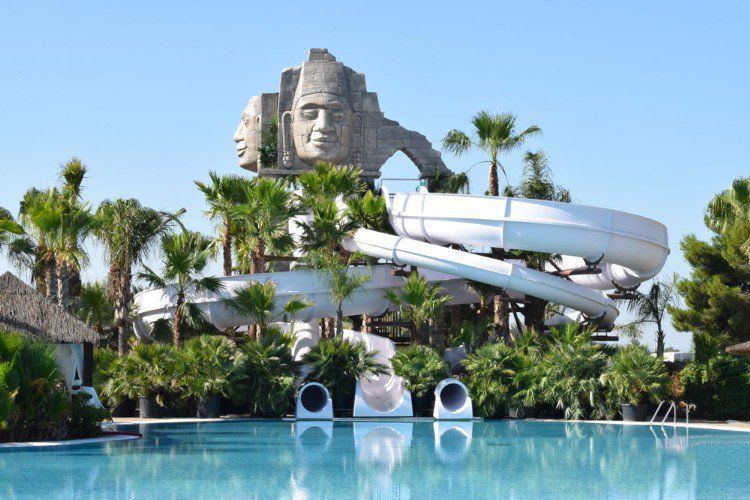 ⚖ What advantages does a resort bungalow have over a hotel room?
The term resort is more related to the services offered than to the specialization of a type of accommodation. We can enjoy in a plot or a mobile-home, cabin or similar, the same additional services. It must be taken into account that a cabin or bungalow already assembled offers a series of advantages that together with premium details make it the most demanded option.
Some advantages of a camping bungalow are:
Travel comfort. You can arrive by plane or by road, but you do not have to carry your caravan or motorhome. This can also result in fuel savings.
Space and privacy. From a certain number of people in the family, the bungalows offer a space like a house. Independent rooms, complete bathrooms… A motorhome, with the exception of a few, cannot have the dimensions of a cabin or the layout of a house. A hotel room is just that, a room.
Cleaning and maintenance. Although most are equipped with kitchens, many campsites offer "breakfast", "half board" or "full board" meals, which is very useful for families who want to keep their vacation expenses under control. Linens and towels are also changed.
A bungalow is an independent construction, in a natural and horizontal environment.
The best of an apartment, the best of a hotel and in the middle of nature.
Large refrigerators and design for more than just sleeping.
🏞 Where are the camping resorts in Spain?
The premium campsites that offer extra comfort in a differentiated environment for vacations, the resort campsites, are usually located on the Levantine and Mediterranean coast. From Catalonia (Tarragona, Cambrils, Salou) to Alicante (Benidorm, Guardamar, Crevillente, Pilar de la Horadada…). The oldest camping resorts were born in Catalonia and the most prestigious Spanish ones (awarded by European specialists), are located between Catalonia and the Valencian Community. At this point we recommend reading the list of the best resort-type campsites in Spain. On the home front, we highlight La Marina Camping & Resort and Marjal Resorts.
As info we advance you that in 2020 Marjal campsites will change its name to Alannia campsites . They will change their website, their Booking profile, Tripadvisor and others, but will continue to offer the same experience for the family south of Alicante, in Guardamar and Crevillente. You will also find Alannia in Tarragona, in Els Prats.
This is due, logically, to the fact that the majority of the population consumed "Sun and Beach" and therefore the Mediterranean destinations have developed around this model. Vacations evolved and the establishments with them, offering families, couples or friends traveling a more complete plan for vacations on the coast.
💶 What is the price of a stay in a camping resort?
This type of camping is in great demand, especially during the summer season. Campsites in the Valencian Community, unlike other areas, are open all year round. The services of swimming pools or animation are adjusted to the time of the year, as well as their price.
"The resort campground closer to the beach is more expensive (in general) for equal services."
If we think of going to a resort-type campsite in Salou or Cambrils in summer, we will have to be willing to pay a price that in many cases is considered high and in other cases may be economical for the services offered.
Prices for families in resort and bungalow or premium plots, 2 adults and 2 children for 7 days in July, are approximately as follows:
Plot: usually from about 60 euros per day to a little more than 80 euros per day. In 2020, the price of a pitch in some camping resorts will reach 170 euros per day on the beachfront for a family of 4 or 5 members.
Bungalows: from about 170 euros per day up to 400 euros per day, depending on the type of accommodation, size, area, proximity to the beach, private pool, etc.
As a tip, you should always compare prices on different websites, such as Booking or the official website of the campsite. We always guarantee the best price on the web, but in others you may find surprises. The Booking or Expedia websites are good to see the reviews, of course. These are real comments, from customers who have passed through the resort.
When assessing the price of a camping resort, the price per person per day must be taken into account, as well as the services included: breakfast or half board, children's entertainment or adult entertainment, swimming pools, sports facilities and leisure activities…
The proximity of Spanish camping resorts makes the trip relatively short and therefore cheaper than flying to another destination (usually). Although the setting may suggest that we are in Africa, Tahiti or the Caribbean, we are actually in Spain, a tourist powerhouse to which many people wish to travel.
✅ Finally, should I go to a resort campground?
As a final conclusion, this is the question to ask yourself. A resort is in itself the destination of the trip, the point where you will spend most of your leisure time. Whether in the lake pool or in your resort bungalow. You should consider whether this is what you are looking for or a combination of a unique accommodation with a destination that provides a unique set of vacation experiences. Team of entertainers, themed swimming pools with slides and products aimed at wellness you are sure to have.
We, from Armanello campsite offer a set of additional services to our camping area, glamping and bungalows. From our experience, the vacation destination is our city, which offers one of the largest water parks in Europe (Aqualandia).
In addition, here you will find wine tasting in wineries, theme parks such as Terra Mítica or Terra Natura, beaches, coves, hiking, cycling routes, snorkeling, sea trekking, diving, water cable-skiing, parasailing… We offer a combination of a naturally modern establishment with the services necessary for relaxation. We will tell you what to do in Benidorm and surroundings. Relax and enjoy with us, that Slow Life and when you get tired go out and have fun in the city.
Whether you choose this option or something more modest but unique, we hope we have helped you understand what a camping resort is and that you enjoy the camping world, which in its full scope is a unique and engaging experience. We recommend you to visit our post about the best campsites in Spain.