In this article we are going to talk about restoring a caravan, but also about refurbishing a caravan. That is to say, to fix the flaws and to improve it, to make it more modern and more beautiful.
Please don't be scared at first sight. Any second hand caravan can have surprises and look like a complete disaster. But if you have a good, aluminum chassis, the rest can be fixed. Here begins our DIY (Do it Yourself) tutorial on how to turn an "authentic vintage style" caravan into a home with time, patience and a good decoration.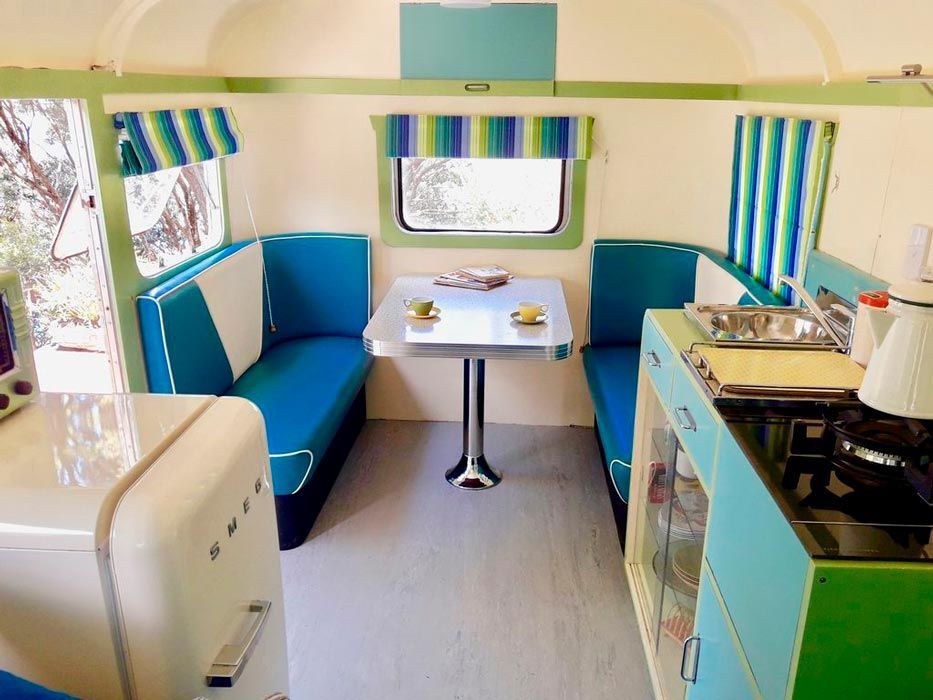 ---
---
SEARCH FOR FAULTS
Let's start by making a checklist of common damages when restoring a second (or fourth) hand caravan:
Puertas y armarios con grietas
Paredes con humedades y goteras
Baño con suelo o paredes podridas
Agujeros hechos desde el exterior para atornillar o pasar cables
Suelo rajado, arrugado o levantado
Instalación de gas en mal estado, con paredes quemadas, sin revisión…
Antena de televisión ausente
Instalación eléctrica antigua
---
EMPTY THE CARAVAN
The next step is to empty the interior of everything possible to work comfortably. Yes, there is little space inside and you have to take out kitchen furniture, shelves from damp walls, bathroom furniture, mattresses, etc.
Be careful of gas pipes, water pipes, drains and other TV or cable outlets when removing furniture. As a piece of advice, until you finish the renovation don't throw away the furniture, because sometimes you can't find any of that size and it's possible to restore.
As for the walls, if they are damp, you will have to lift the plastic layer of paint that they have and see how are the strips behind them. Normally the wall of the caravan has an outer sheet metal, then wooden slats, sometimes insulation and then the plastic paint coating. Uncover all the walls that are bad and leave them in the air.
We continue with the floor and if it is very bad and we want to change it (let's suppose we do) we remove it without screwed furniture. We lift the vinyl and where we can not cut with a cutter.
---
TAKE ACTION
It is very important to take the measurements of the caravan and make a small draft plan. Floor meters, measurements of the walls, height of the caravan, distance from the sink to the ceiling…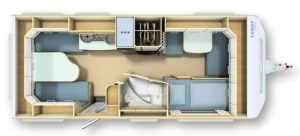 ---
THE SHOPPING LIST FOR RESTORING A CARAVAN
Restoring a caravan can cost a minimum of 1000 euros, depending on its condition. Refurbishing a caravan in good condition can be cheaper. But assuming it was in bad shape and following our explanation, we leave you a list of basic things to buy:
Silicona
Poliuretano para las paredes
Masilla para el suelo
Pintura para pintar las paredes y selladora
Rodillos y pinceles
Suelo de tipo tarima o tarima flotante. Comprueba que no se raye.
Espuma de espuma de polietileno y cinta para sellar los empalmes
Material para forrar paredes de la cocina o del baño (al gusto de cada cual)
Listones de madera para sustituir los podridos
Tablero DM para sustituir el suelo podrido o las paredes. Si son paredes, el de 3mm.
Luces LED, pulsadores, cajas de enchufe…
Espejos
Paneles solares
When buying think about the style you are going to give it: vintage, modern, rustic? Search Pinterest for ideas, it's full of bedroom, kitchen, living room and deck decor for RVs. Look up the word glamping caravan or vintage caravan and you will see.
---
RESTORE THE WALLS
We started the restoration with the damp walls we had. We replaced the battens, gluing them with T-Rex or silicone and filled the holes with polyurethane.
When it dries, cut off the excess with a cutter and sand it to make it more or less smooth.
If it is not smooth we recommend to put 3mm DM board, screw it carefully so as not to go through the outside, cover the screws and paint it once the putty dries.
When painting it, remember that the lighter it is, the greater the feeling of spaciousness. Colors like white and beige are a great idea. You can also add mirrors which always help to give a feeling that the space is larger as well.
As the walls are plastic, they are not porous, so remember to give them a coat of sealing paint before painting so that the paint will hold well.
REFORM THE SOIL
Yes, here we are going to refurbish the caravan because we are going to improve the floor. With a cheap floor if you want, between 6 and 8 euros per square meter.
We had already removed the vinyl and had seen parts that were rotten. We cut them and replace them with marine board of sufficient thickness. We seal it with floor putty, make it more or less smooth with the spatula and start with our floor.
Don't be discouraged, we are heading in the right direction. If we have bought floating floorboards we cut strips of polyethylene foam, which will go under the floorboards and cover the floor. Seal the joints with adhesive tape. Then we place the floor on top following the instructions.
There are also adhesive vinyl floors that do not require foam underneath and are easy to install. Let the specialist in the DIY store advise you, he might give you some interesting details.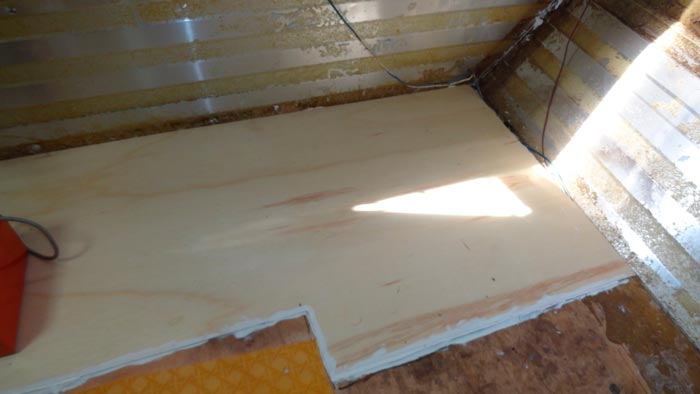 ---
BATHROOM RENOVATION
Here it is worth stopping to think. If we only have a toilet and sink, we wouldn't need so much insulation. If we have a shower, think that the water always runs out. And we already know that water and wood is a bad combination.
Look for PVC materials to cover the walls (adhesive vinyl flooring may work for you) and a vinyl for the floor, without joints or cuts and that you can raise 2 or 3 centimetres behind the skirting board. If you are looking for a toilet, here is an article about chemical toilets.
---
COOKING AND GAS
In very old caravans it is best to buy a kitchen sink that are mounted in the camper. They are already finished furniture, which are perfectly integrated and hidden. Clean, efficient and will fit in 95% of caravans. If they fit in the reform of a camper they have to fit in the restoration or reform of a caravan.
As for the cooler, it has to fit the battery you can carry. That's why it's better to have portable coolers.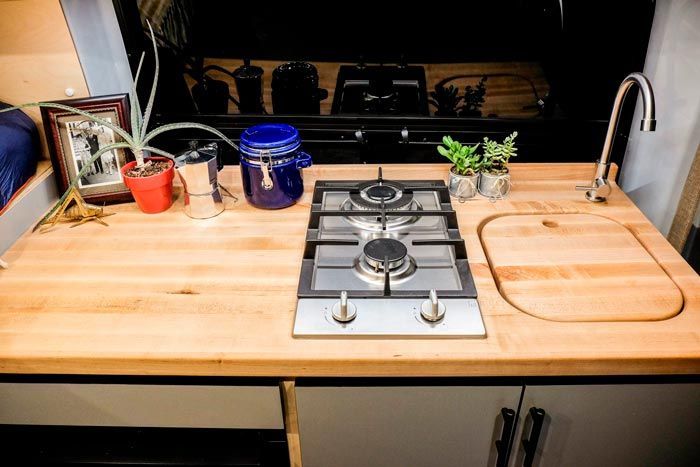 ---
ELECTRICITY AND TV
In general we recommend basic photovoltaic panels and a battery. There are thousands of systems, but to power sockets to charge your mobile phone, watch TV or have the lights on, you don't have to spend a lot of money. Ask a specialist to help you. At this point, unless you are a good handyman, put aside the DIY vein and let yourself be advised.
Obviously no portable air conditioner or oven. Things that require a lot of power can only be connected when we plug into the campsite's power point. Go to campsites that have at least 10A of power, if you don't want the electricity to go off constantly.
---
EXTERIOR DECORATION
Finally, let's talk about painting the outside of the caravan. Yes gentlemen, let's not forget the exterior with all the renovation work we have done on the inside.
We sand the caravan with an eccentric sander because the caravan has a kind of granite wall. We taped and covered windows and any parts we didn't want to paint.
Now a compressor and car paint. You can metallize it, combine colors or apply a pattern. Search the Internet for images of vintage caravans and let yourself be guided. There are some very good ideas.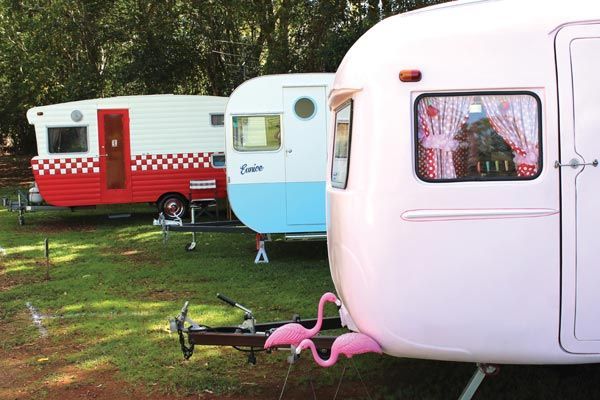 And we can only tell you to enjoy the wonderful world of camping and if you have a little time come and try our plots for caravans. If you have refurbished a caravan you deserve it!