Benidorm Palace is a nightclub located in Benidorm (Costa Blanca). It is one of the best venues in Europe to enjoy a magnificent show with or without dinner. For those who are less familiar with this type of variety hall, it is a hall where shows are produced as in the legendary Moulin Rouge in Paris.
Because the hall, located in the Rincón de Loix (Levante area) of Benidorm, offers performances of vedettes, dance, magic and artists of different talents. As a result, you're in for a great night out, with or without dinner, although we recommend the former.
It also hosts charity dinners, concerts of famous artists such as Alejandro Sanz, Bisbal, Malú, Pastora Soler and many others.
Además, el camping ofrece a sus clientes entradas con descuentos para Benidorm Palace. Ten en cuenta que desde Armanello se puede ir andando en 5 minutos a Benidorm Palace o con coche fácilmente, ya que se encuentra en la misma zona de la ciudad. Reserva tu bungalow y disfruta de Benidorm Palace.
New show
The show for 2020 at Benidorm Palace is called <<AQUA>>, and the theme revolves around travelling through a luxury cruise ship to different locations. With 40 international artists and a great cast.
During the show you can enjoy Spanish dance, magic, humour, acrobats and a variety of performances.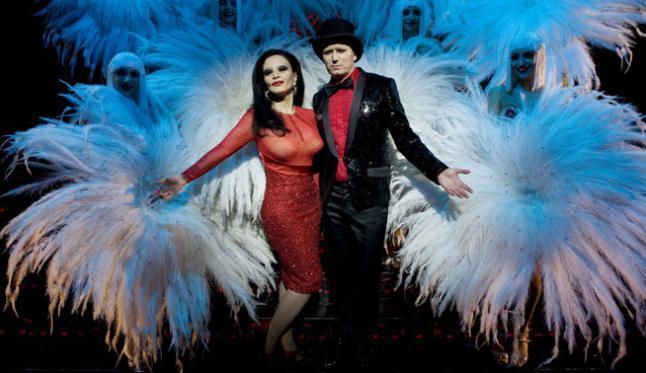 Since when does Benidorm Palace exist?
As a curious fact, the birth of Benidorm Palace dates back to 1977. With its 40th anniversary, it has had thousands of nights of performances, hundreds of artists and has won the recognition of European journalists and specialized magazines. This hall with capacity for 1600 people and 500 cars, is one of the emblems of the tourist city. After many years, Benidorm Circus was born, in the same venue. A permanent circus, without animals, that offers on Saturdays its show aimed to make the whole family enjoy.
This was the old façade of Benidorm Palace.
Artists, Shows and Benidorm Circus
Moving on, let's mention what we can find then in Benidorm Palace and Benidorm Circus:
International Vedettes
Flamenco
Ballet
Show with or without dinner
Acoustic Concerts
Actions
Charity Galas
Magic with internationally renowned magicians.
Clowns in the circus
Jugglers
Ballerinas
To conclude, this establishment, known as "El Palace", offers the possibility of hosting any large-scale event: congresses, closings, product presentations… In addition, it is common to find all kinds of galas, monologues and theatrical performances as well.
Schedules
Start or opening time: Open from 20:30, the show starts at 22:00.
Menu Meal
Show and a drink
Entrance + 1 drink
34€
Show and Menu
Entrance + Menu (check on the website) with dessert, wine and cava.
54€
Show and Plus Menu
Entrance + Menu (check on the website) with dessert, wine and champagne.
64€
These prices may vary, as well as the composition of the menus. For more information, see www.benidormpalace.com
The management of the tickets can be done at Reception, always at the best price.