If you are looking for a campsite in Benidorm, in La Marina Baixa, to travel with your family, friends or children, this is your campsite. You'll think of a place to go and hang out by the pool for a few days. But if you are also in one of the most privileged places in terms of environment and activities, then your vacation will have that extra that is often missing in a hotel or camping resort.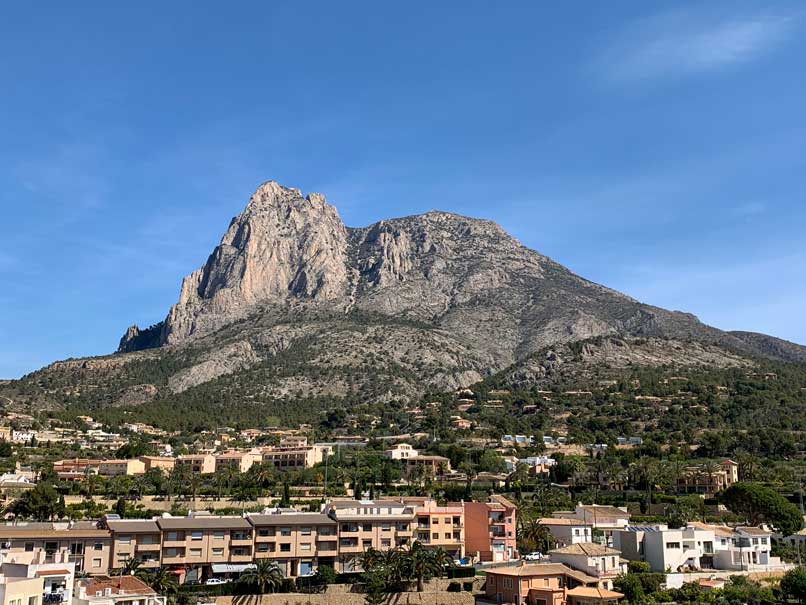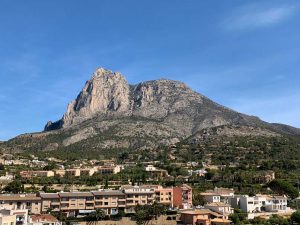 The Marina Baja, in Valencian Marina Baixa, is a region of Alicante, whose municipalities are:
Benidorm: beaches, water park, theme park… In short, the tourist capital of the Mediterranean for adults and children. Surely you are interested in our article of What to do in Benidorm.
Villajoyosa: home of Chocolates Valor, magnificent beaches in a 100% quiet environment.
Altea: if you have that image of a white Mediterranean village with a blue-domed church…
Alfaz del Pi: small village with the beach of Albir, of pebble stones.
La Nucia: wonderful inland town, 5 minutes from Benidorm. European Sports Village, perfect for training.
Callosa de Ensarriá: Fuentes del Algar, with its waterfalls and pools of water in a more than green environment.
Finestrat: sea and mountains.
Polop de la Marina: small charming village, just next to La Nucia.
Relleu
Orcheta
Tárbena
Sella
Benimantell
Bolulla
Confrides
Guadalest: the most visited place in the Valencian Community, you read that right.
Benidardá
Benifato
As the campsite is located in La Marina Baixa, a few kilometers from Alicante, it offers both sea and mountain populations, with a privileged environment. Children enjoy a lot in the parks, but also in the mountains and in nature. Mountains such as the Puig Campana, the Algar springs or the Guadalest reservoir, are attractions for all mountain lovers and unique natural environments, which are only a few km from Benidorm and the campsite.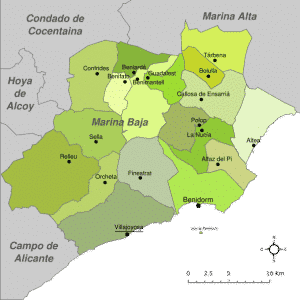 From Benidorm, the tourist capital par excellence, to towns of 250 inhabitants, that is what makes up La Marina Baixa. With approximately 200,000 inhabitants, most of them live between Benidorm, Villajoyosa, Altea, Alfaz del Pi and La Nucia. We can reach Alicante in 25 minutes through the AP7.
It is noteworthy that from the campsite we can drive in 20 minutes to most of the nearby towns or take the train from Alicante to Denia, crossing the region. Dine in Altea, in the old town, visit the Guadalest Castle, enjoy the natural park of the Fuentes del Algar, visit the Cala de Finestrat or its shopping center or visit the Roman villa of Villajoyosa, with more than 3000 years old, not to mention its chocolate museum of the well-known brand "Valor". La Marina Baixa is the capital of tourism, and a benchmark in the province of Alicante.
Special mention should be made of the theme parks: Terra Mítica, Aqualandia, Mundomar and Terra Natura and Aqua Natura Benidorm. If you want to enjoy a great day with family or friends, these parks located in Benidorm (Alicante) will delight everyone and are a reference for both the province of Alicante and the whole country.
Enjoying La Marina Baixa is the best choice for the province of Alicante, with warm temperatures in winter, environments to enjoy hiking, trail running, mountain biking, scuba diving, sailing… And if you decide to choose a campsite to enjoy the region, why not try Camping Armanello (Alicante)?
What can we do in La Marina?
The swimming pool is a classic in summer, but here there is much more. In La Marina, made up of the Marina Baixa and Marina Alta, we will be able to carry out an endless number of activities. Focusing on the region of Benidorm, we highlight:
Hiking in Benidorm: Sierra Helada, Sierra Bernia, Sierra Aitana, Puig Campana…
Diving
Chocolate Museum of Chocolates Valor, in Villajoyosa
Sources of Algar in Callosa de Ensarrià
All this from a campsite with children's entertainment in summer. Because it's not all about being in the pool. The entertainers will entertain the little ones while you are at the campsite and the Reception team will help you plan your visits and activities in La Marina.